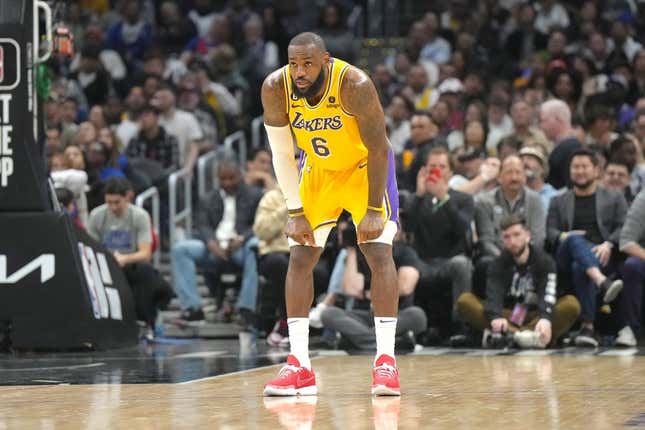 The Los Angeles Lakers would like to avoid the Western Conference play-in tournament, but LeBron James isn't stressing over how things work out
Are the Oakland A's a failed state? | Agree to Disagree
Los Angeles is tied for the seventh-best record in the West with two games remaining and can't afford another setback when it hosts the red-hot Phoenix Suns on Friday night
The Lakers have won seven of their past nine games, but they took a damaging 125-118 loss to the Los Angeles Clippers on Wednesday night. The Lakers (41-39) and the New Orleans Pelicans (41-39) are each one game behind the Clippers (42-38) and the Golden State Warriors (42-38) in the battle for the final two automatic playoff berths in the West
The 11th consecutive loss to the Clippers was a painful one for the Lakers, who now take on a Phoenix squad that has won a season-high seven straight games
"Listen, it is what it is," James said after the Wednesday loss. "Wherever we end up, that's where we end up. It's been like four or five seasons in one for us. We don't have the luxury of saying, 'This is what we need to do. This is where we're gonna be.' "
The Suns (45-35) are locked into the No. 4 spot in the West and could opt to rest some key players on Friday in the second game of a back-to-back set. Phoenix defeated the visiting Denver Nuggets 119-115 on Thursday night
Candidates for rest include Kevin Durant (29 points against the Nuggets), Chris Paul (25) and Devin Booker (15). Paul made a career-best seven 3-pointers and Durant sank six treys.
"We won't make that assessment right now official at all," Suns coach Monty Williams said postgame. "It may make sense to play them a half, it may make sense to do something else ... I will listen to all the information and we'll have something in place by (Friday's game).
Paul has scored 22 and 25 points in his past two games after failing to reach 20 in his previous 27 outings.
Durant feels Paul will have more high-scoring games in the postseason as he believes teams will make it a priority to stop himself and Booker.
"I think a lot of teams are going to force (Paul) to be a scorer," Durant said after the Suns improved to 8-0 with him in the lineup. "The best defenders are going to guard me and Book every night. He's going to have opportunities to be aggressive and score. I think every game might be different for CP. He might lead us in assists, he might lead us in points. We just need him to be aggressive.
Paul had just two assists against Denver and didn't get his first until the final eight minutes of the contest.
"At one point, I had no assists for the game, that was weird," Paul said. "That's never been my story. But on this run that we're trying to have, it's whatever it takes. I don't care what it looks like."
Meanwhile, James has averaged 35 points over the past two games but is listed as questionable for Friday due to right foot soreness. James recently returned from an injury to that same foot.
James scored 30 of his 33 points in the second half during the loss to the Clippers.
Anthony Davis (right foot) also is questionable to face the Suns while D'Angelo Russell (left foot) is probable
Russell recorded 15 points and seven assists in 40 minutes against the Clippers after missing the Lakers' 135-133 overtime win against the Utah Jazz on Tuesday in Salt Lake City
"Just trying to get right," Russell said. "Playing at 50 percent isn't helping the team. Whenever I'm more than that, I'm ready to play."
Phoenix is 2-1 against the Lakers this season, but Los Angeles posted a 122-111 home victory on March 22 to end a six-game skid against the Suns
--Field Level Media