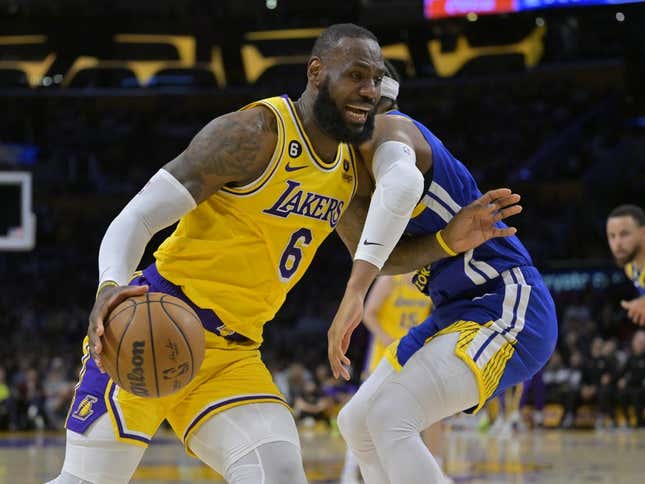 LeBron James scored 30 points and Anthony Davis added 17 points and 20 rebounds as the Los Angeles Lakers' dynamic duo returned the franchise to the Western Conference finals for the second time since 2010 with a 122-101 victory over the visiting Golden State Warriors on Friday
Chris Paul should ride the bench next season | Keep it a Buck(et)
Austin Reaves scored 23 points and D'Angelo Russell had 19 as the Lakers won the conference semifinals in six games and eliminated the defending NBA champions by improving to 6-0 at home in the playoffs. Davis played despite a head injury that occurred in the fourth quarter of Game 5
The Lakers move on to face the Denver Nuggets on the road in Game 1 of the Western Conference finals on Tuesday
"Not many (players) on our team have been in a close-out game," James said from the court on the ESPN broadcast. "After Game 5, I knew we had to come in with a lot of aggression but be very efficient on how I play this game. It was big-time."
Stephen Curry scored 32 points and Donte DiVincenzo added 16 off the bench as the Warriors lost to a Western Conference team in the playoffs for the first time since Steve Kerr became head coach in the 2014-15 season
Golden State guard Klay Thompson struggled for the fourth consecutive game, going 2 of 12 from 3-point range, 3 of 19 overall and finishing with eight points. The Warriors were 13 of 48 (27.1 percent) from 3-point range
Draymond Green scored nine points and grabbed nine rebounds for the Warriors. Green was slowed by a calf injury in the fourth quarter, while Andrew Wiggins played with a rib cartilage fracture and scored just six points
"I want to say how proud I am of our guys," said Kerr, whose team won just 11 regular-season road games and went 2-5 on the road in the playoffs . "It's been a long and difficult season in many ways, but our guys hung in there. To be here, to have a chance in the conference semis when for much of the season we were kind of adrift, it shows the character of our group and how they stuck together."
The Lakers came out with early energy, leading by 17 points just over seven minutes into the game
The Lakers finished the first half on a dynamic sequence. Davis blocked a shot inside by DiVincenzo, James tapped the ball down court and Reaves drilled a half-court shot at the buzzer for a 56-46 lead at the break
Amid his first start of the playoffs, the Lakers' Dennis Schroder was ejected with 6:20 remaining in the third quarter after receiving his second technical foul. His replacement, Lonnie Walker IV, scored five quick points and Los Angeles went into the final period with a 91-77 lead
The Lakers pushed their advantage to 106-82 with 7:17 remaining
--Field Level Media