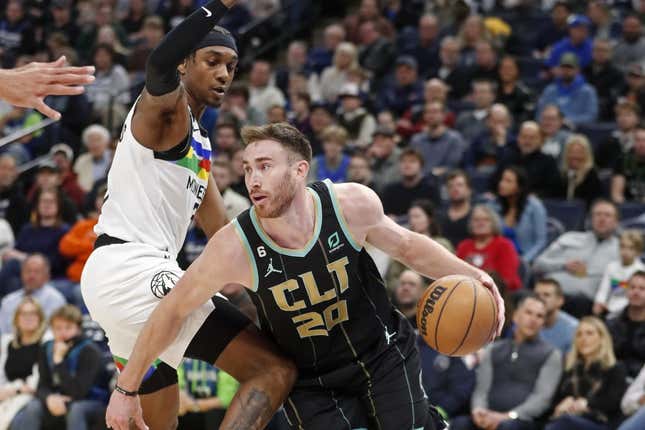 LaMelo Ball recorded a double-double of a game-high 32 points and 10 rebounds, Gordon Hayward added his own double-double with 27 points and a game-high 13 boards, and the Charlotte Hornets defeated the Minnesota Timberwolves 121-113 on Friday in Minneapolis.
It was the Hornets' first three-game winning streak of the season.
Ball's productive scoring night -- which also included eight assists -- culminated in a key 3-pointer with 1:21 remaining that extended Charlotte's three-point lead to six. Hayward set up the pivotal basket when he attacked the paint off the dribble, then kicked out to a wide-open Ball for Ball's fifth made attempt from beyond the arc.
Ball shot 5 of 9 from deep, accounting for half of the Hornets' 10 made 3-pointers. Charlotte went just 10 of 28 as a team from long range, but finished 25-for-28 at the foul line compared to just 10 of 16 for Minnesota.
The Hornets also capitalized on 16 Timberwolves turnovers, converting them into 19 points, including Hayward's mid-range floater on the possession immediately following Ball's big 3-pointer. Anthony Edwards threw the ball out of bounds, which combined with Hayward's ensuing basket, effectively sealed the outcome.
Edwards led Minnesota with 29 points but shot just 11 of 26 from the floor. Rudy Gobert added 17 points on 7-for-9 shooting and grabbed 10 rebounds, while Naz Reid came off the bench for 16 points and eight boards.
The Timberwolves outscored the Hornets in the paint, 62-54, and posted 10 more bench points at 35-25, but the free-throw disparity and 19-8 gap in points off turnovers proved detrimental.
So, too, did a lackluster defensive first half in which Minnesota surrendered 72 points. The Timberwolves trailed by as many as 11 points in the second and third quarters and, despite taking the lead in the fourth quarter, never grew the advantage to more than a one-possession margin.
The loss is Minnesota's second straight, following a defeat against Washington before the All-Star break, and its third loss in the last four outings.
--Field Level Media