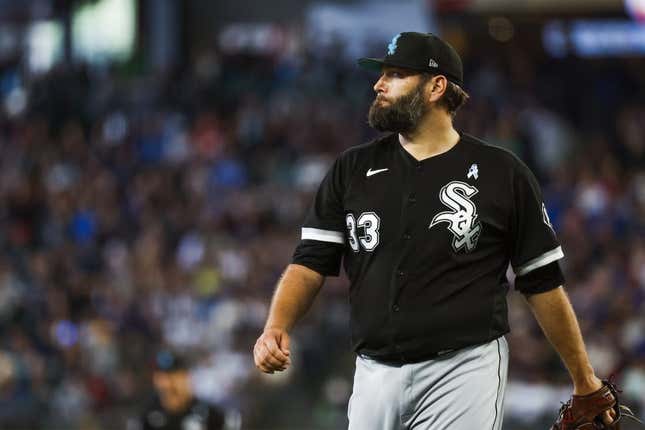 Chicago White Sox right-hander Lance Lynn will look for a better result in Saturday's game against the visiting Boston Red Sox
How running an NFL team is like running a restaurant | Chef Emeril Lagasse
Lynn (4-8, 6.51 ERA) pitched well in his last outing, mind you. He tied a franchise record by recording 16 strikeouts in seven-plus innings Sunday, but he surrendered three runs and took the loss in Chicago's 5-1 setback against the Seattle Mariners.
"It doesn't matter how many you strike out if you don't win the game," Lynn said. "You just want to pitch well, to be honest. You don't really start thinking about records or anything, especially like a single-game situation. I didn't even know how many (strikeouts) I had."
Lynn's 16 strikeouts were the most for a member of the White Sox since Jack Harshman fanned 16 on July 25, 1954. It also was Lynn's career high for strikeouts in a game
Lynn, 36, was placed on the bereavement list Monday before being activated Thursday. Right-handed pitcher Jimmy Lambert was optioned to Triple-A Charlotte to make room for Lynn on the roster.
Despite the loss, Sunday's outing was a positive sign for Lynn, who had allowed at least five runs in each of his previous three starts.
Lynn has been effective against the Red Sox during his career, going 2-1 with a 2.05 ERA in eight appearances (seven starts)
The Red Sox on Saturday are expected to start left-hander James Paxton (3-1, 3.29), who has pitched well since he returned on May 12 after nearly a two-year stay on the injury list. Paxton has stepped up after the Red Sox lost starters Chris Sale and Tanner Houck to injuries
Paxton, 34, has 51 strikeouts in 38 1/3 innings through seven starts this season. He's 2-0 with a 3.28 ERA in five starts against the White Sox in his career. He has 27 strikeouts in 24 2/3 innings during those five games
Saturday's matchup will be the second contest of a three-game series between the teams. The Red Sox won the opener 3-1 Friday night despite being held to four hits
Boston's Rafael Devers had a big part in Friday's victory. He hit a two-run homer against White Sox starter Lucas Giolito to break a 1-1 tie in the fourth and then helped turn a double play in the bottom half of the inning
"He's still got work to do, but that's the beauty of Raffy," Red Sox manager Alex Cora said. "He can go 0-for-4 with four strikeouts and then the next day he has three strikeouts and he puts a good swing and that happens. He's hitting the ball harder than ever. He's struggling against fastballs but hitting them hard. He's struggling against breaking balls but hitting them hard. We've just got to stay the course and he'll be fine.
The White Sox committed two errors that led to two unearned runs in the loss. The Devers home run came after Masataka Yoshida reached on an error by White Sox shortstop Elvis Andrus to lead off the fourth, and David Hamilton scored Boston's first run on a two-base error by second baseman Tim Anderson in the third
--Field Level Media