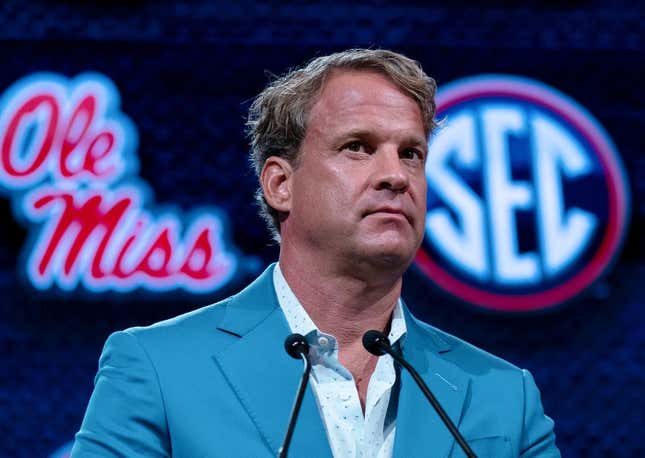 If Ole Miss head coach Lane Kiffin had his way, the Name, Image and Likeness (NIL) initiative would be out of college football and more schools would integrate mental health training into their programs.
How running an NFL team is like running a restaurant | Chef Emeril Lagasse
One of those he has no control over, but he's become somewhat of a pioneer on the latter front.
Kiffin took the podium at SEC Media Days on Thursday in Nashville and, per usual, had a lot to say.
Regarding NIL, Kiffin said it's a "poor system that's getting worse."
Kiffin is in favor of the transfer portal and also a believer in players getting compensated. But it's the combination of those that Kiffin says is potent and dangerous.
"You just told donors you could pay players," Kiffin said.
"Now, we have professional sports. That's what's been created now," Kiffin went on. "There are no caps to what guys can make or payrolls, so when this first came out, I said, whatever programs have the most aggressive boosters with the most players are going to get the best players. Now, we are adding some states that don't follow the NCAA.
"It's where we are at."
When pressed further, Kiffin said he doesn't have answers -- he just knows it's a problem.
"I'm not complaining because we take advantage, obviously, of free agency," said Kiffin, likening the portal to free agency in pro sports. "It isn't good for college football, these overhauls of college rosters. It really isn't in the best interest of college football."
Meanwhile Kiffin's team is believed to be the first program to establish mandatory mental health training for all coaches and players.
"This mental health area is not in that old-school coaching book at all," Kiffin said. "It was, 'Hey, shut up and go practice and play,' especially in the sport of football. Just over the years in going through so many mental health issues with our players and coaches and not having tools or a good system in place -- besides just sending them across campus to a mental health specialist.
"I was excited to do (training) with that and excited for the education with that," he added. "The ability to see things and help our players is really neat. They just go through so much."
Kiffin also touched on the SEC expanding by two in 2024, when Oklahoma and Texas arrive from the Big 12.
"I actually joked to (Texas coach) Steve Sarkisian yesterday, I don't know why any coach would want to go to the NFL," Kiffin said. "We're in it now. I mean, our schedule is like playing in the NFL ... especially adding (Texas and Oklahoma)."
Kiffin, 48, went 8-5 last season and is 23-13 heading into his fourth season with the Rebels. Ole Miss opens the season at home against Mercer on Sept. 2 in Oxford, Miss
--Field Level Media