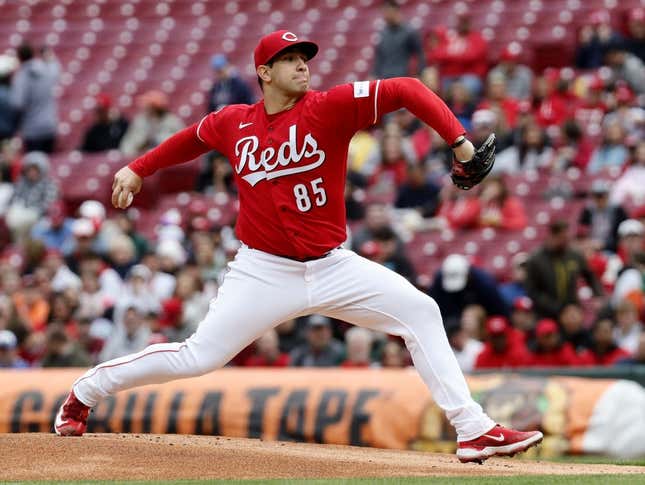 The Oakland Athletics will look to avoid a record-tying loss on Friday when they begin a three-game series against the visiting Cincinnati Reds
Oakland has dropped 12 of its past 14 games and is 4-21 in April. The record for April losses in a single season is 22, held by the 1988 Baltimore Orioles.
Brent Rooker and Shea Langeliers homered in the Athletics' 8-7 loss to the Los Angeles Angels on Thursday in Anaheim, Calif. Oakland dropped three straight to the Angels after winning the series opener 11-10 in 10 innings on Monday
One bright spot for the A's has been the play of center fielder Esteury Ruiz, who had four stolen bases on Wednesday and is tied for the American League lead with 10 steals.
"That is exactly what this young man can do when he gets on base," Oakland manager Mark Kotsay said of Ruiz, who added another theft on Thursday. "It's creating excitement. He has that talent, that ability to impact a game with his speed."
Oakland was expected to send left-hander Kyle Muller (0-2, 7.23 ERA) to the mound for the series opener, but his turn was pushed back to Saturday. Muller has given up 16 runs across 13 innings in his last three starts.
The A's did not list a replacement for the Friday outing, but they made a change to the pitching staff on Thursday. Oakland optioned right-hander Luis Medina to Triple-A Las Vegas one day after he lost his major league debut against the Angels. Medina was tagged for eight runs (seven earned) on eight hits in five innings.
"I'm just going to work hard and come back stronger with more hunger," Medina said postgame. "Pitch how I can pitch, because I know I can do much better than tonight."
Right-hander Domingo Acevedo, who had been on the injured list due to a lower back strain, was activated to take Medina's roster spot.
Cincinnati completed a three-game sweep of the Texas Rangers on Wednesday when Nick Senzel hit a walk-off, two-run homer to give the Reds a 5-3 victory
Senzel's blast snapped Cincinnati's eight-game homerless streak, the team's longest such stretch since July 4-11, 1992.
"We knew it was going to come," Reds manager David Bell said. "It was a matter of time. It couldn't come at a better time
"We've been scoring in other ways, which was great. We have the ability to hit homers, too. They will come without trying to do it. That was certainly not on Nick's mind in that at-bat. It just happened because that is what happens when you put a good swing on the ball."
Cincinnati will turn to right-hander Luis Cessa (0-3, 10.80 ERA), who has lost his past three starts. He allowed two runs over 4 2/3 innings in a 2-1 loss to the Pittsburgh Pirates on Saturday.
Cessa, 31, was encouraged by the outing after giving up 11 runs and 14 hits over three-plus innings in a 14-3 loss to the Philadelphia Phillies on April 16.
"I was being aggressive in the zone," Cessa said after the outing at Pittsburgh. "That's a key for me, to stay aggressive in the zone with all my pitches -- fastball, slider, changeup. Really good things happened today. It was better for sure than my last outing."
Cessa is 0-1 with a 3.46 ERA in five career games (one start) vs. Oakland.
--Field Level Media