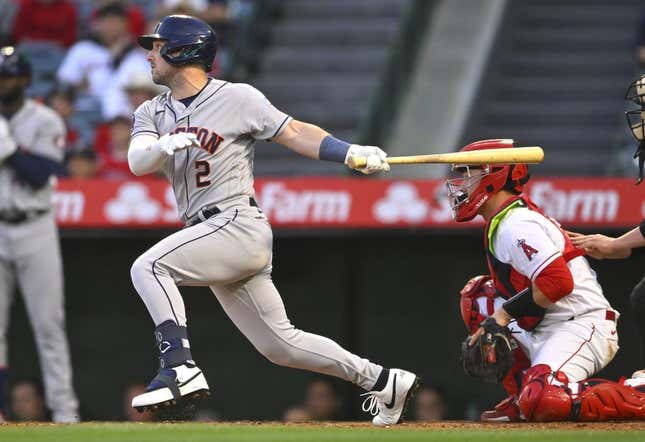 Brandon Drury's RBI triple in the eighth inning made the difference as the Los Angeles Angels opened a three-game divisional series against the Houston Astros with a 6-4 win on Monday in Anaheim, Calif
Air Jordans are more American than McDonald's French fries | Deon Cole's Ultimate Sports Fantasy
With the American League West rivals tied at 4 going into the bottom of the eighth, Anthony Rendon drew a leadoff walk off Houston reliever Rafael Montero (0-2). After Hunter Renfroe flied out, Drury blasted a first-pitch sinker to deep center, and the ball caromed off the wall and gave Rendon ample time to advance home from first base.
Los Angeles tacked on another run when Matt Thaiss' deep sacrifice fly scored Drury, giving Carlos Estevez a cushion to pick up his eighth save of the season.
The Angels struck first when Renfroe hit a solo home run off Astros starter Hunter Brown in the second inning, but Houston responded with three runs off Los Angeles starter Patrick Sandoval in the following half-inning
Alex Bregman tripled to score Mauricio Dubon, Yordan Alvarez followed with a double to score Bregman and Jose Abreu doubled to score Alvarez.
Bregman and Alvarez both went 2-for-4 on the night.
Los Angeles evened it up with a pair of runs in its half of the third inning, starting with the first of Shohei Ohtani's two run-scoring doubles. He drove in Zach Neto before Rendon singled to send home Taylor Ward.
A David Hensley solo home run in the fifth put Houston back on top, but Ohtani's second RBI double scored Ward in the bottom of the fifth to draw Los Angeles back to even.
The Angels bullpen did its part to keep the Astros at bay, with Matt Moore (2-1) recording the win after 1 2/3 scoreless innings. Sandoval pitched 6 1/3 innings, allowing four runs and seven hits. He fanned two and didn't issue a walk
Brown pitched 4 1/3 innings for Houston, allowing four runs on nine hits while striking out three and walking one.
Ward finished 3-for-4 and Ohtani went 2-for-4 in the win.
--Field Level Media