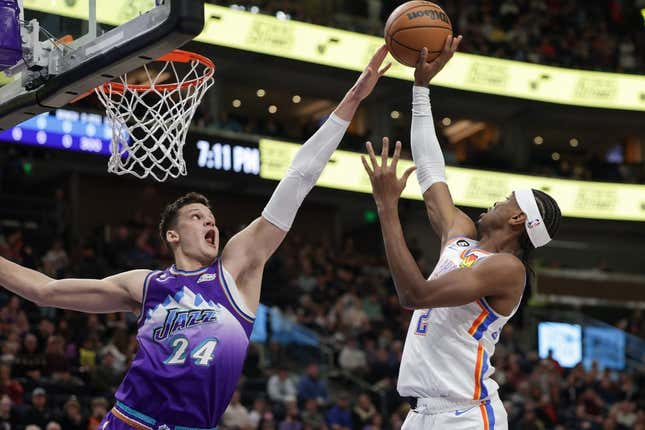 Lauri Markkanen scored 43 points, including three clutch free throws in the final seconds, and grabbed 10 rebounds as the Utah Jazz rallied to beat the Oklahoma City Thunder 120-119 in overtime Thursday night in Salt Lake City.
Days after playing in his first All-Star Game on the same court, Markkanen scored 18 points in the fourth quarter to help the Jazz overcome a nine-point deficit and force an extra session.
Utah improved to 30-31 overall but 4-0 in overtime. Oklahoma City, now 28-30, dropped to 2-4 in extra time.
Shai Gilgeous-Alexander, who was on Markkanen's All-Star team on Sunday, led the Thunder with 39 points and seven assists. He also pulled down eight rebounds.
Gilgeous-Alexander split free throws with 12.5 seconds remaining in overtime to put the Thunder ahead 119-117.
Markkanen then got three free throws after being fouled by Luguentz Dort while shooting a 3-point attempt with 4.6 seconds to go. Oklahoma City challenged it, but the call stood and Markkanen gave the Jazz a one-point lead with three straight makes from the charity stripe.
Gilgeous-Alexander then missed a game-winning attempt for Oklahoma City at the buzzer.
Jordan Clarkson added 24 points for the Jazz, and Kelly Olynyk and Ochai Agbaji each scored 12. Kris Dunn, playing his first game for the Jazz after signing a 10-day contract, finished with 11 off the bench.
Rookie Walker Kessler played a huge role in the win for Utah, totaling 18 rebounds, seven blocked shots and seven points.
Kessler was instrumental in extending the game. At the end of the fourth quarter, Kessler outhustled three Thunder players for a second offensive rebound and then powered up a game-tying layup with 4.6 seconds left.
Kessler then blocked Isaiah Joe's last-second reverse layup attempt to force overtime.
Oklahoma City led by eight after three quarters, but the Jazz went on a 17-9 run over the first eight minutes of the fourth to tie the game at 95.
The Thunder scored the first four points of OT and then took another four-point lead a few minutes later. Utah had a chance to take the lead after Clarkson drained a triple, but Kessler missed two free throws with 58.2 seconds left.
Josh Giddey followed with another bucket for a 118-115 Oklahoma City lead at the 35.7-second mark.
Clarkson responded with a pair of free throws a few seconds later, making it a one-point game with 32.4 left.
Giddey (18 points, 11 rebounds) and Dort (11 points, 11 boards) each had a double-double for Oklahoma City.
--Field Level Media