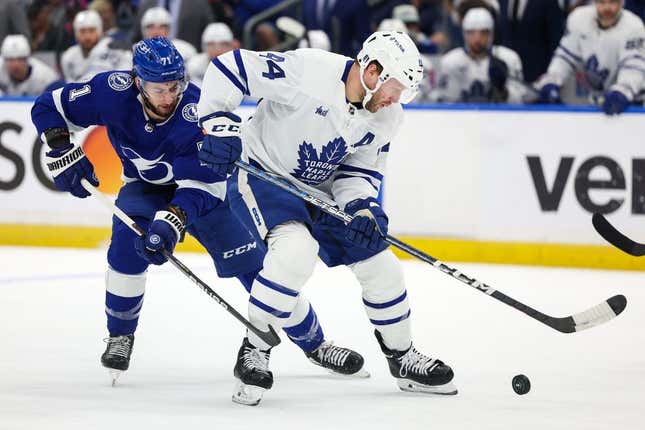 John Tavares scored 4:36 into overtime Saturday night as the Toronto Maple Leafs broke a 19-year playoff series drought, beating the host Tampa Bay Lightning 2-1 in Game 6 in the first round of the Eastern Conference playoffs
Bass' ERA stinks, but not compared to who he is off the mound | Worst of the Week Countdown
In the extra session, the captain cycled the puck around the offensive zone before spinning and firing a shot from the left circle that struck the left skate of Lightning defenseman Darren Raddysh
The puck skittered past goaltender Andrei Vasilevskiy (20 saves) and clinched a Stanley Cup playoff series for the first time since 2004 -- with the last three games coming in overtime in Tampa.
By winning for the first time in its last nine playoff series, Toronto will move to the next round to face the winner of Sunday's Game 7 between the Florida Panthers and host Boston Bruins.
Auston Matthews scored in regulation, and Ilya Samsonov was sharp in stopping 31 of 32 shots.
The Leafs' triumph broke an 0 for 11 stretch in series-clinching matches.
The Lightning opened the match with considerable jump to their game, nearly potting the best early chance at 5:35 when Samsonov was forced to make a sprawling save of Steven Stamkos' putback attempt from just a few feet outside the crease
Across the scoreless first period, the match was evenly played during even-strength action, but the Lightning won the matchup of the special teams
Tampa Bay's penalty-kill unit thwarted two power plays by the high-powered Leafs. The home side actually held a 10-7 shot advantage as Samsonov's steady play kept the visitors from being down.
In the second period on a strong shift, Leafs defenseman TJ Brodie used fine stickwork at the blue line to keep a Lightning clearing attempt inside the offensive zone. He whipped a feed to Matthews, who one-timed home his fifth goal of the series at 13:47
Toronto kept its advantage by withstanding a late power play following Brodie's tripping infraction. Stamkos rang the inside of the post on a one-timer from the left circle at 2:15 so it stayed 1-0 after 40 minutes.
However, Stamkos finally capitalized 4:11 into the third when he corralled a rebound and popped in his second tally of the series to knot it at 1-all, which stood after three periods.
--Field Level Media