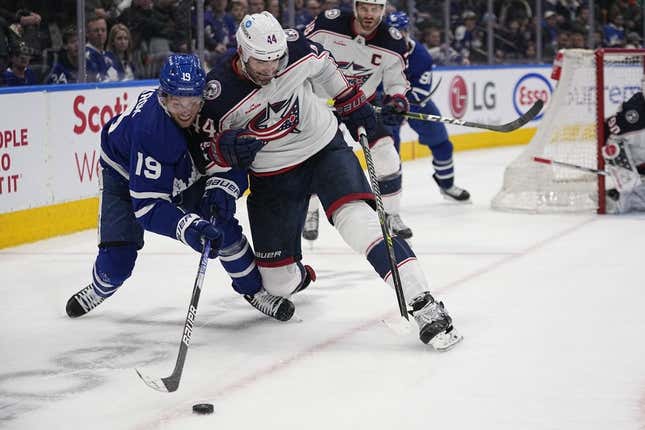 The Toronto Maple Leafs have another chance to close in on clinching home-ice advantage in the first playoff round Tuesday night when they host the Columbus Blue Jackets
Aaron Rodgers should go full Joe Namath | Comedian Bert Kreischer
The Maple Leafs (45-21-10, 100 points) missed a chance Sunday night with a 5-2 home loss to the Detroit Red Wings
As a result, Toronto's margin over the Tampa Bay Lightning for second place in the Atlantic Division remained at four points. The teams will meet in the first round of the playoffs and second place will determine home-ice advantage in the best-of-seven series.
The Maple Leafs have six games remaining in the regular season, one more than the Lightning
Toronto rested Mitch Marner, Mark Giordano and Jake McCabe for the game against Detroit.
"We've got tremendous depth," Maple Leafs coach Sheldon Keefe said. "We are in a good spot. We've earned the opportunity to make decisions appropriately and look at the big picture ... and manage players accordingly. We still want to build our game. We want to make sure our mindset is right.
Late in the first period, they also lost goaltender Matt Murray to concussion protocol after he was knocked down accidentally.
"I'm so sick about it," Ilya Samsonov, who took over for Murray after earning a shutout against the Ottawa Senators on Saturday. "It's hard for him, hard for his family and it's hard for our team."
Keefe said that Murray will be re-evaluated Monday on the team's day off with an update not expected until Tuesday.
The Maple Leafs trailed 3-1 after the first period against the Red Wings with Murray allowing two goals. Toronto's David Kampf missed on a penalty shot during the opening period
"We missed a breakaway, we missed a penalty shot in the first period," Keefe said. "So even though we'd given up a bunch, we probably deserved to have more than we had, and then from there I thought they defended extremely hard. We didn't generate much of quality tonight at five-on-five. In terms of where I put it, we lost a game on home ice, and that's not acceptable any time."
The Blue Jackets (24-44-8, 56 points), who will miss the playoffs, came back to defeat the visiting Ottawa Senators 4-3 in overtime on Sunday. Ottawa led 3-2 after the first period. Boone Jenner tied the game in the third period and Kirill Marchenko scored 16 seconds into overtime
Marchenko has scored 21 goals in 53 games this season, passing Pierre-Luc Dubois (2017-18) for the most by a rookie in franchise history.
"It's very cool," Marchenko said. "I'm very happy to score these 21 goals and the last goal here at the home rink. On the trip, it's not as much fun, but here, it's our fans. It's a first for me, the first goal in overtime. It's a great feeling. I really like it. I want to score more, of course, but it's a really good feeling."
"We get down in that game, but I liked how we settled in," Blue Jackets coach Brad Larsen said. "We settled in. Third period was a good period. There was some compete out there. Guys were pushing. It was great.
"Funny first period with goals pretty quickly back and forth," Jenner said. "After that, I think we locked it down a little bit better defensively. (Jon) Gillies kept us in it with some big saves throughout the second and third. I like the way we stayed with it."
--Field Level Media