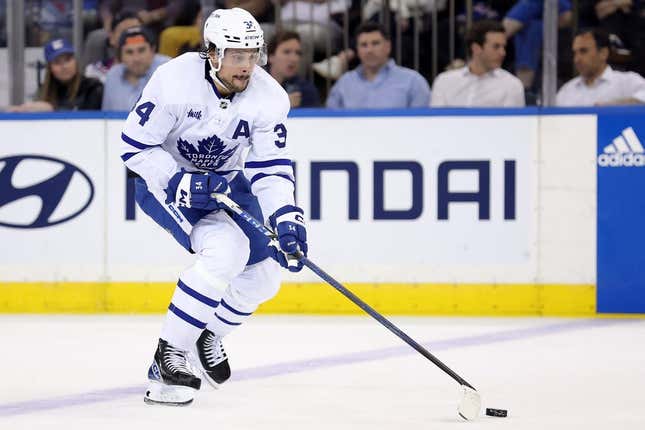 The Toronto Maple Leafs again have home-ice advantage when they meet the Tampa Bay Lightning in a first-round opener in the NHL playoffs Tuesday night
And this time the Maple Leafs hope they can cash in that advantage to break what has become an epic succession of postseason failure
The Maple Leafs are in the playoffs for the seventh straight season but have not advanced beyond the first round since 2004. And despite being one of the Original Six franchises -- and having 13 Stanley Cups to their credit -- they're looking for their first Stanley Cup since 1967
"It's a new year, a new opportunity, a new group," said Mitchell Marner, who led Toronto with 99 points (30 goals, 69 assists) this season. "We're excited for this. We have to be in the here and now. I don't think you try to think about (the pressure). You have people around you to talk to. I don't think you want to hold that stuff in, you don't want to keep it inside you.
"We're not trying to think of anything outside of this locker room, we're not trying to worry about anything else. We're trying to worry about how we can be the best that we can be."
Toronto made moves with the playoffs in mind at the trade deadline, acquiring forwards Ryan O'Reilly, Noel Acciari and Sam Lafferty, and defensemen Jake McCabe, Luke Schenn and Erik Gustafsson.
The flurry of moves was at least partly a response to last year's successful regular season that came to a crashing end when they lost to the Lightning in seven games after building a 3-2 series lead. To add insult to injury, the Game 7 loss came on home ice
The Maple Leafs would rather talk about the present, as they finished this season with four victories, including a 4-3 win over the Lightning at Tampa on April 11
The Lightning, meantime, struggled down the stretch, ending a four-game losing streak by winning their final game of the regular season 5-0 over the visiting Detroit Red Wings
The Lightning were 14-15-5 after the All-Star break, with their 33 points in that span ranking 21st in the NHL
The Lightning have reached the Stanley Cup final in each of the past three seasons, winning 11 of 12 playoff series -- an impressive 48-23 postseason run with two championships
They are trying to become the first team to reach the Stanley Cup Final in four consecutive seasons since the New York Islanders did it five straight times in 1980-84.
As usual in the playoffs, goaltending will be vital.
Toronto is expected to rely mostly on Ilya Samsonov while the Lightning will go with Andrei Vasilevskiy, who has been a brilliant playoff performer
Vasilevskiy is rested. He played in only two of the Lightning's final five games of the regular season after a playoff spot was clinched April 1
"If he wants the rest, we give him rest. If he wants to play, he plays," Lightning coach Jon Cooper said. "I think this has been good for him. He's going to jump into this series (with Toronto) and play and game it out like he always does
"But a big part of it is the playoffs are a grind and so you... build a little strength in the body, and he's been in the gym doing things and it's all in preparation for Game 1."
Vasilevskiy said, "I was able to take care of myself a little bit here and take care of my body, because obviously during the season there's minor bumps and injuries. But now, I feel good."
Tanner Jeannot (leg) will miss Game 1 for the Lightning and is listed as day-to-day
--Field Level Media