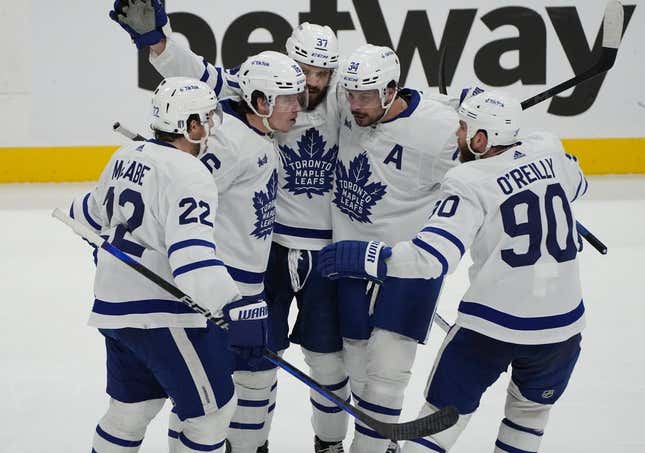 The Toronto Maple Leafs face another must-win situation Friday night against the visiting Florida Panthers in Game 5 of their Eastern Conference second-round series
Aaron Rodgers should go full Joe Namath | Comedian Bert Kreischer
The Maple Leafs trail the best-of-seven series 3-1 after avoiding a sweep on Wednesday with a solid defensive effort in a 2-1 victory at Sunrise, Fla
"It's a great response, but it's one response," Maple Leafs coach Sheldon Keefe said. "It was required and now there's another game on the schedule.
Panthers coach Paul Maurice, whose team overcame a 3-1 deficit in a first-round upset of the Boston Bruins, was philosophical
"We lost a game," he said. "That happens in the playoffs. I think to everybody so far. OK, we're good. We're OK. We get to play the next one. I think it wasn't so fabulous a win that they're not going to let us play the next one."
Florida had won six consecutive games before the loss on Wednesday.
Toronto goaltender Joseph Woll made 24 saves in his first career playoff start. He replaced injured Ilya Samsonov (upper body) early in the second period of the overtime loss in Game 3. Woll will again start Friday, Keefe said, with Matt Murray in the role of backup.
"It was a pretty awesome game to get put into," Woll said. "It was awesome for me to see how hard we played, guys blocking shots and putting it all on the line."
Toronto players blocked 21 shots in Game 4 and Florida blocked nine.
"It's going to take even more than what it did (Wednesday)," said William Nylander, who scored for Toronto in the second period. "Winning one here is one step on the way. Don't want to get too high. It's just one win. We've got a long way to go."
Nylander's goal, on a power play, involved some good fortune. Michael Bunting's pass along the boards bounced off an official to Nylander, whose backhander hit the post and goaltender Sergei Bobrovsky's mask before going in.
"It's a little unlucky bounce, but it is what it is," said Bobrovsky, who made 23 saves. "We had a good game, I thought. We don't have to do anything different. We just have to keep playing our game, be patient. They are a good team. So, nobody said it's going to be easy. It is what it is. We're going back to Toronto and the series is going to go on."
Mitchell Marner, who had an assist on the first goal, gave Toronto a 2-0 lead in the third period on a 46-foot wrist shot through traffic.
"Just a complete effort," Marner said. "We wanted to just take it shift by shift for a full 60 (minutes), and I thought we did a great job.".
"I thought from an effort standpoint, it was our best effort of the season," Keefe said. "You saw all the way through from start to finish, there was no real letup. Obviously, it's a very close game but our competitiveness defensively, and urgency defensively, was the best it's been all year. It was an unbelievable job by our guys."
Sam Reinhart scored on the power play for Florida in the third.
"I think we didn't quite establish our offensive game enough, and our forecheck leads to that," Reinhart said. "I think we were a little loose through the neutral zone and that led to less (offensive zone) time, less opportunities for us tonight."
--Field Level Media