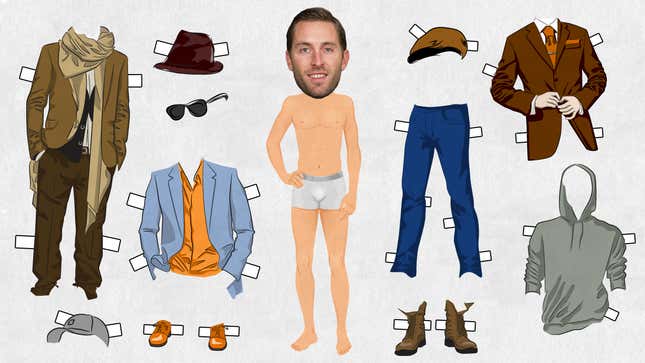 A tipster sends along the following email, which was originally sent from Stephen Spiegelberg, a Texas Tech alum and proprietor of Lubbock clothing store Chrome, to Joe Parker, the deputy athletics director at Texas Tech. According to the tipster, the message was bcc'd to a few of Texas Tech's regents. The email seems to be a followup message after a lunch meeting between Spiegelberg and Parker. It contains a detailed list of ideas about how to get Texas Tech's new head football coach, 33-year-old Kliff Kingsbury, into the media spotlight.
Bass' ERA stinks, but not compared to who he is off the mound | Worst of the Week Countdown
The email reads like the work of the real-life version of Jean-Ralphio, and it is as hilarious as it is ridiculous. Some of Spiegelberg's best suggestions:
Get Kingsbury a nickname. Suggestions include "GQ," "Hollywood," and "Swagger."
Get Kingsbury a professional stylist, specifically Fred Segal, who has apparently styled "Micheal" Jackson, Brad Pitt, Madonna, Ashley Olson, Bruce Willis, The Beatles, Carrie Underwood, and Adam Lambert. "The list goes on," boasts Spiegelberg.
Get Kingsbury on the "B-list," which will somehow lead to his being invited to the Oscars and Grammys. Also New York Fashion Week
Read the whole email, and then laugh. This is big-time college sports at its most farcical.
Joe- Thanks again for lunch. Great to hear how much success you are having.

Recap:

Redesign masked rider logo- More nod to the Spanish heritage of Llano Estacado. Think the six flags and the image of a masked rider. I suggest you consider allow a test on how the logo works from a design element stand point. The past logos the designer thought looked cool. Its a nightmare to design around for artist. We need to see how well a new logo drops in under multiple elements.

Bring Back Vintage masked rider and double t logo for vintage graphics. This is the most requested art from the TTU fan base that we can not deliver. It would open a whole new world to design..mainly because its flat. The 3-D versions of logos are limiting in terms of design and production. We are missing a flat logo that will sell.

DVD programs- Let me help with the distribution to make it more successful. We can coordinate designs like OU did with its program. When you have time let me know how to get these DVDs of womens BBall at wholesale. I will reissue the 1993 national champion shirt we did and make it a combo.

Kliff- Can rest. We need to craft his image. His agent doesn't give a damn. He has his money. TTU always successful when it works outside normal channel. Normal channel closed down by media outlets.

Pete Carroll= worked an angle of the Rock and Roll Coach at USC. It was placed. He was seen with Rock and Roll bands & music industry execs.

Bill Synder= Works as the wizard. Does more with less. Media loves the wizard angle.

Mike Leach= the strange one. Offensive genius. Media loved the straight forward answers. He embraced the strange answers with the press and grew his image.

Phil Jackson- Zen Coach. press loved talking about the Zen approach to basketball coaching.

Bear Bryant- Father of coaching. Media loves talking about the "sons of the bear"

Tom Landry- The Gentleman. The Hat.

Kliff- We place his nickname..GQ, Hollywood, Swagger..(we talk to him and see what we can place) we need to dial in Kliff's style and hammer it as a the "cool kids" here at Texas Tech.

Starting point: if we are going to place KK in the media spotlight. He must be spot on in terms trend & look. That is what we can hang our hat on... I have reached out my friend and owner of Fred Segal LA. http://www.fredsegal.com/ He has dress and made the image of many stars: He has helped style Micheal Jackson, Brad Pitt, Madonna, Ashley Olson, Bruce Willis, The Beatles, Carrie Underwood, Adam Lambert. List goes on. He's a go to guy for helping read and place the stars image in terms of looks. I sent him Kliff's pics. He said he would help me put Kliff in what on trend for his style...and more importantly body type. If he puts his signature on Kliff, then Kliff also gets introduced to the Hollywood A-list. He will then assign a stylist to Kliff for season review and help.

Middle point: We hire a branding firm out of LA that specialized in getting our boy on the B-list. We need him to be seen at NY fashion week, some Hollywood events, and the hip scenes around the nation. ( I know we have a firm working the TTU image) I suggest we use a firm that specializes in placing people in the scene. I am told there is 3 main firms. Why? We get B-roll for your normal sport channels. (espn , ABC, ect) We ask Under Amour to help with the cost of branding their coach.

Middle Point two: I help you get TTU logo and merchandise placed in Music, TV, and Movie. Goal: to make that logo cool. Love the logo, find out about our team. Its what happened to licensing in the early 90's. I saw it work. Why? you guys are killing it with our fans base. I want to help open the brand to a national fan base. WE WERE ON TRACK in a huge way with MIKE....60 mins ect. We can do it again with Kliff.

End point: By year two....I want Kliff on a cover of national magazine. I want him invited to bigger events in LA and NYC. Oscars, Grammys, ect. Everytime he is seen in an unconventional setting....TTU get free advertising. We need this to level the playing field with TEXAS. Also, we can turn the tables on TEXAS. its old, tired, its the Nike to your kids generation.

UA showed us....we are already the team that wears the cool brand in Texas. We can brand as the Hippest school in the game. Swagger on and off the field. It will draw stars to lubbock and the program. You have a two part machine. UA investing big time in the image of the program and Kliff (the need another coach to sit with Steve S at USC) They need an icon that can knock down NIKE huge list of personalities. They are missing this in all sports. (Kirby can sell the hell out of it to Kevin, but its about striking at the right time...soon while we are hot) He will get it. We need a $1 billion firm helping to power us. It Kevin best investment in college sports. Maryland is his love, but TTU is his best investment. We need him to consider adding additional funds to help grow UA's TTU investment. The more we win, the more it pisses off Nike in Austin. It a natural cool kids school, with cool kids clothing brand. Offering the firm in LA 100K to get kliff into
the b-list is chump change for the return and image for UA. Kliff=GQ and Kliff only wears UA for sports.

I have more but I have to run to meeting. I did not proof read, because of time and you know where I am going with this Joe. I am typing as fast as my mind is thinking, so excuse my errors.

ALSO- We need UA to start by PLACING Steve S and Kliff in a national college football commercial. We need Kliff side by side with a power figure to set a tone day one. We need him elevated in the national public mind. KEYWORD FOR THIS MONTH.....NATIONAL. You are killing it in the state......you took risk by interviewing 3 coaches with no head coach title. Now consider risking on unique channels in blowing up the brilliant hire.

All humble opinions and ideas...I would not be a good friend to you unless I keep pushing you for greatness. Keep charging!!! Rip the wave...don't ride it.

Stephen Spiegelberg
CHROME
2416 Broadway
Lubbock, Tx 79401
Tele:806.687.8953
Fax:806.687.8954
We reached out to Spiegelberg. He said he wanted to speak with Parker before commenting. Texas Tech spokesman Blayne Beal downplayed Spiegelberg's involvement with the school. "Like anybody else in T-shirt sales, you know, they're always trying to give us their input on things," he says.
But hey, Texas Tech must be doing something right.
Top image by Jim Cooke