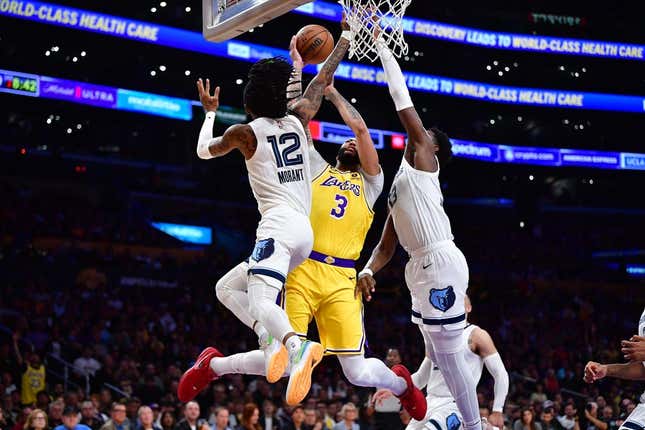 LeBron James scored 22 points, including a layup to force overtime and another late in the extra period, as the Los Angeles Lakers earned a 117-111 victory over the visiting Memphis Grizzlies on Monday to build a commanding 3-1 lead in a first-round Western Conference playoff series
Bass' ERA stinks, but not compared to who he is off the mound | Worst of the Week Countdown
James added a career-high 20 rebounds while Austin Reaves scored 23 points for the seventh-seeded Lakers, who have their first chance to eliminate the Grizzlies in Game 5 on Wednesday at Memphis
The last Laker to put up 20-plus points and 20-plus rebounds in a playoff game was Shaquille O'Neal in 2004.
D'Angelo Russell scored 17 points for the Lakers, sinking three key 3-pointers in the fourth quarter before fouling out. Anthony Davis was held to 12 points for Los Angeles while dealing with hip discomfort after a second-quarter injury. However, he scored five points in overtime and wound up with 11 rebounds
James made a layup with 0.8 seconds remaining in regulation and sealed the victory on another layup with 29.4 seconds left in overtime when he was fouled by Dillon Brooks. He missed the ensuing free throw but gave Los Angeles a 113-108 advantage.
Desmond Bane scored 36 points and Ja Morant added 19 for the second-seeded Grizzlies, who are 0-3 in the series with Morant on the floor. Memphis earned a 103-93 victory in Game 2 when Morant was out with a sore right hand
Morant aggravated his injury in the third quarter on Monday but remained the game.
Jaren Jackson Jr. amassed 14 points, 14 rebounds and five blocks for Memphis, while Xavier Tillman added 12 points.
The Grizzlies took the lead late in regulation on an end-to-end sequence when Jackson blocked a Rui Hachimura dunk attempt with 10.8 seconds remaining. Morant led a fastbreak, sending a behind-the-back pass to Bane for a 104-102 advantage with 6.7 seconds left
James got the Lakers even with 0.8 seconds left on his driving layup, and Davis blocked a Morant shot at the regulation buzzer
The Lakers led 29-23 after one quarter, but it was a far better 12 minutes for the Grizzlies than Saturday when they were outscored 35-9 in the opening period. Los Angeles led by as many as 15 in the second quarter before Memphis closed out the half on a 14-1 run to get within 54-52 at the break
--Field Level Media