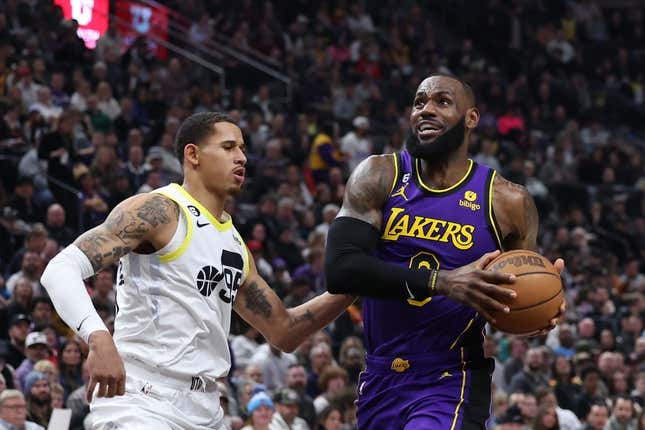 LeBron James scored 37 points and hit a game-winning layup late in overtime to help the Los Angeles Lakers edge the Utah Jazz 135-133 on Tuesday night in Salt Lake City
'Soccer fandom is full of gatekeepers' says Ted Lasso actor Brendan Hunt
Austin Reaves added 28 points and Anthony Davis totaled 21 points, 14 rebounds and six assists to help the surging Lakers (41-38) move a step closer to clinching a guaranteed playoff spot. Los Angeles earned its fourth consecutive win
Despite having three starters sidelined, the Jazz rallied in the final 1:36 of regulation, outscoring the Lakers 10-0 to force overtime
Former Laker Talen Horton-Tucker and Kelly Olynyk each scored 23 points and Ochai Agbaji contributed 22 for the Jazz. However, it wasn't enough to keep Utah (36-43) from losing for the seventh time in eight outings
Reaves scored seven points in just over a minute late in the fourth, capped by a 3-pointer with 1:43 left that gave the Lakers a 124-114 lead
The Jazz then went to work
Agbaji started Utah's 10-0 run with a 3-pointer. Kris Dunn followed with a layup, Olynyk hit a 3-pointer and ex-Laker Damian Jones knotted it up by sinking two free throws with 11.4 seconds left.
James missed a last-second drive to send the game to overtime.
Jones finished with 16 points and eight rebounds for Utah. Collin Sexton returned from his injury absence, after not playing since Feb. 15 due to a hamstring ailment, and scored 15 points.
The Jazz took an early lead in OT on an Olynyk layup and free throw. James scored five straight to put Los Angeles up by two, but Horton-Tucker quickly tied it
After Utah went up by three thanks to an Olynyk trey, a Reaves jumper and a pair of James free throws gave the Lakers a 133-132 lead with 54.1 seconds left
Horton-Tucker split a pair of free throws to tie it again, setting the stage for James' late spinning drive.
Horton-Tucker missed a potential game-tying shot, and the Lakers ran out the clock
After falling behind by 14 in the third quarter, Utah roared back with an 11-0 run. Two minutes later, however, the Lakers re-established their double-digit lead with a 9-2 spurt
Utah opened the fourth with six straight points, including consecutive buckets by Sexton, to go up 99-97. Los Angeles then took a seven-point lead midway through the fourth after a Troy Brown Jr. 3-pointer.
--Field Level Media