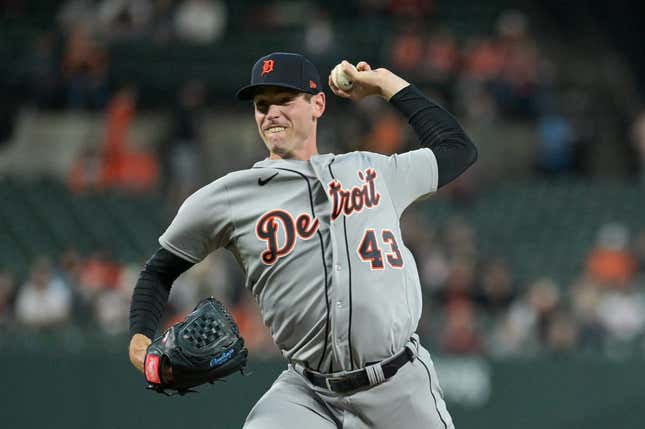 Joey Wentz recorded his first win this season in his last outing. The Detroit Tigers left-hander will try to make it two straight when he starts against visiting Seattle on Sunday afternoon
Bass' ERA stinks, but not compared to who he is off the mound | Worst of the Week Countdown
Wentz gave up two runs in 5 2/3 innings against Cleveland during his seventh start Monday.
"For personal reasons, to get this win was huge for me," Wentz said afterward. "But if you've been watching our team recently, a lot of guys are contributing. Really, everybody is. We've been doing a good job of controlling what we can. Personally, though, this feels good."
Wentz (1-3, 6.09 ERA) had given up at least five earned runs in half of his previous starts this season. He made his major-league debut last May and wound up starting seven games, going 2-2 with a 3.03 ERA. He'll be making his first appearance against the Mariners
Another lefty, Logan Gilbert, will be Wentz's mound opponent as Seattle goes for a three-game sweep.
Gilbert (1-2, 3.79 ERA) has been sharp in his two May starts but only has a no-decision and loss to show for it. He gave two runs and three hits while striking out six in six innings against Oakland on May 3. He limited Texas to the same amount of runs and hits in 6 2/3 innings while notching 10 strikeouts on Monday but the Mariners lost 2-1
Gilbert was even better than the stat line suggests. He took a perfect game into the seventh inning.
"With that kind of pitching performance, you certainly expect to win the ballgame," Mariners manager Scott Servais said. "You can't ask for anything more than what Logan Gilbert did (Monday). That's about as good as we've seen him at any point all season long. He absolutely dominated.
Using a fastball, slider and curveball mix, Gilbert nearly matched his career-high of 11 strikeouts. In one stretch, he recorded seven in a row. The lack of run support cost him the victory.
"Credit to them (Rangers). They found a way to put up a couple runs," Gilbert said.
After a 9-2 win Friday, the Mariners recorded a 5-0 shutout Saturday behind rookie Bryce Miller. He allowed just three hits and didn't walk a batter in seven innings. Miller had allowed just one run in his first three career starts
"We didn't do anything against him," Detroit manager A.J. Hinch said. "He had good stuff. Everything across the board was in the strike zone. He was efficient, he was dominant. We hadn't seen him before. I can see why he's off to a good start for his career."
Jarred Kelenic and Teoscar Hernandez supplied the power for the Mariners, as they each blasted their eighth homer of the season. It was an encouraging afternoon for Hernandez, who had three hits to raise his season average to .229
Julio Rodriguez, who homered and drove in four runs in the series opener, didn't have a hit while batting cleanup. However, last season's American League Rookie of the Year did draw a ninth-inning walk, steal a base and score a run.
-- Field Level Media