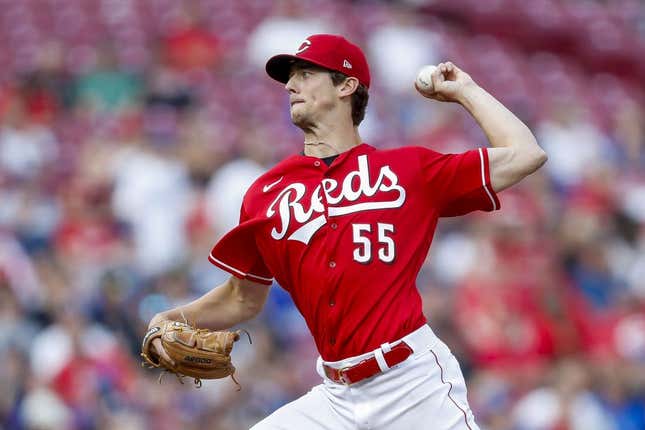 The Baltimore Orioles will look to push their winning streak to three games when they open a three-game series against the visiting Cincinnati Reds on Monday night
How running an NFL team is like running a restaurant | Chef Emeril Lagasse
The Orioles are coming off winning two of three games against the visiting Seattle Mariners. The Reds dropped two of three against the visiting Atlanta Braves after winning 12 straight games to move into first place in the National League Central
Baltimore dropped the opener 13-1 against the Mariners but won 6-4 win in 10 innings on Saturday and 3-2 on Sunday. The Reds opened their series with an 11-10 win Friday before losing by 7-6 scores on Saturday and Sunday
"Games like that, when you lose them, it's hard to swallow because you fight back so hard," Reds manager David Bell said after Sunday's game. "Honestly, this team does it more than any team I've been around.
The Reds' winning streak was tied for the longest in franchise history in the modern era, matching strings set in 1939 and 1957. There was a 13-game-run in 1890 and a 14-game streak in 1899
Cole Irvin (1-3, 7.71 ERA) will start for the Orioles in the series opener. The left-hander, who will make just his sixth start of the season, last appeared in relief, allowing a run on two hits and a walk in one inning of a 7-2 loss at Tampa Bay on Wednesday
In his last start, Irvin took the loss, allowing three runs on five hits with four strikeouts and a walk in four innings as the Orioles fell 10-3 to the host Chicago Cubs on June 16
Irvin's only two appearances against the Reds in his career came in relief stints for the Phillies in 2019, when he pitched 2 1/3 innings over two games
Irvin will look to cool off red-hot shortstop Elly De La Cruz, who has fueled the Reds' resurgence
De La Cruz, who became the first Reds player in 34 years to hit for the cycle, doing so against the Braves on Friday, finished the three-game set going 5-for-13 with four RBIs, four runs, a homer, a triple, a double and a walk
He's 15-for-35 with 10 runs, two homers, six RBIs and three stolen bases in his past eight games, raising his batting average from .235 to .333.
Second baseman Matt McLain went 4-for-5 with three doubles, a homer and five RBIs on Sunday to become the first Reds rookie to record four extra-base hits in a game since Chris Sabo in 1988
Rookie Brandon Williamson (1-0, 5.40 ERA), who has never faced the Orioles, will start for the Reds on Monday. The left-hander is coming off a no-decision in his last start. He allowed three runs on six hits with five strikeouts and no walks in Cincinnati's 5-4 win over the visiting Colorado Rockies on June 19
Williamson's biggest test likely will come against Anthony Santander, who was terrific against the Mariners.
Santander, who has homered in five of his past six games, went 6-for-12 with three homers, five RBIs and three runs against Seattle.
"I'm swinging pretty good, and I'm on time against fastballs and making good contact," Santander said after Sunday's game. "When you feel comfortable, it's good, and all the hard work gets you good results. It's amazing."
--Field Level Media