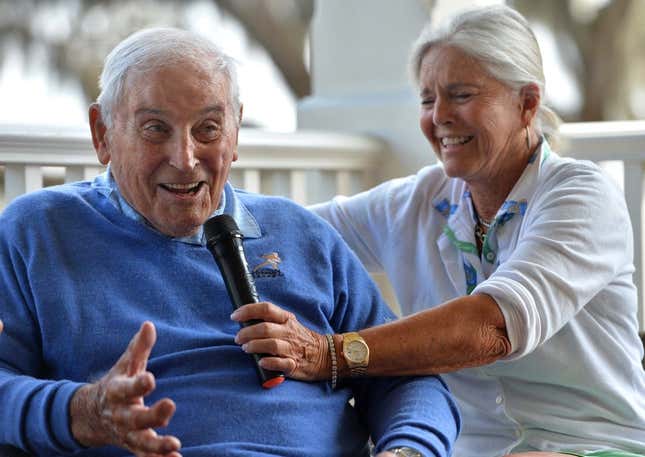 Notre Dame legend Johnny Lujack, the quarterback who won the 1947 Heisman Trophy, died Tuesday. He was 98.
Is Texas or Florida State a bigger national title contender? | Agree to Disagree
Notre Dame said Lujack died in Naples, Fla.
Lujack, a College Football Hall of Famer, led Notre Dame to national championships in 1943, 1946 and 1947. He also was a two-time unanimous All-American.
Lujack played in 1942 and 1943 for Notre Dame before serving in the Navy in World War II for two-plus years. He returned to South Bend for the 1946 and 1947 seasons and the Fighting Irish went unbeaten in both campaigns
Lujack also starred on defense and made a game-saving tackle against Army in 1946 to keep the game tied 0-0, ultimately preserving the team's unbeaten record.
In 1947, he completed 56 percent of his passes during his Heisman campaign for 777 yards, nine touchdowns and eight interceptions as Notre Dame went 9-0.
He was inducted into the College Hall of Fame in 1960.
Lujack was the fourth overall pick in the 1948 NFL Draft by the Chicago Bears.
Lujack played four seasons for the Bears and was a two-time Pro Bowl selection. He played quarterback, cornerback and placekicker.
As a rookie, Lujack intercepted eight passes for the Bears, tying the NFL record at the time. The following season, he threw a career-best 23 touchdown passes. In 1950, he rushed for a career-best 11 scores.
Overall, he threw 41 touchdowns passes against 54 interceptions, rushed for 21 touchdowns, intercepted 12 passes and scored 268 points (142 as a kicker) with the Bears.
Lujack was the oldest living Heisman winner.
--Field Level Media