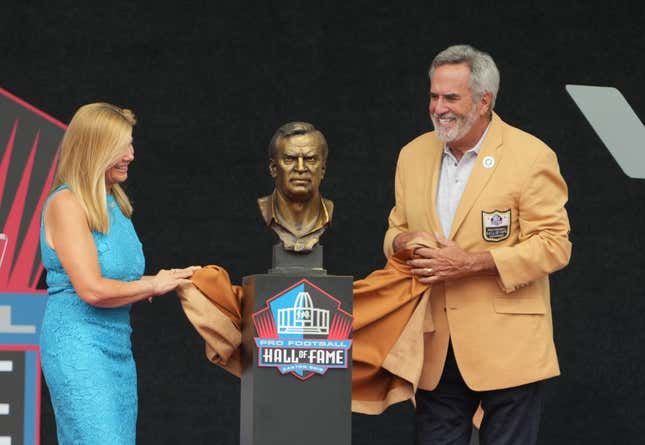 Don Coryell's offenses routinely flew to the top of the statistical charts and remnants of his philosophies are part of modern-day NFL attacks.
How running an NFL team is like running a restaurant | Chef Emeril Lagasse
But not until Saturday did the innovative former San Diego Chargers and St. Louis Cardinals coach get inducted into the Pro Football Hall of Fame at Canton, Ohio.
Coryell died in 2010 at age 85 and it took another 13 years for him to get inducted. This was his seventh time as a finalist. Overall, it was a 30-year battle for daughter Mindy Coryell Lewis and the rest of the family.
"Ladies and gentlemen, 'Air Coryell' has landed in Canton!" Lewis said to wrap up her speech.
The Air Coryell offense revolutionized the single-back formation, tight ends in motion and receiver option routes.
Coryell's offense in San Diego was ahead of its time and earned the catchy 'Air Coryell' nickname. His system turned quarterback Dan Fouts into one of the biggest stars of that era. Fouts presented Coryell into the Hall on Saturday.
"The Air Coryell system is second to none," Fouts said. "His philosophy was that the defense would have to protect the entire field. ... His influence on the game is one that continues to grow not only in the NFL but in college and high school football."
Coryell's Chargers led the NFL in scoring offense three times, in total offense five times and in passing offense in seven seasons.
Coryell had a record of 111-83-1 in 14 NFL seasons with the Cardinals (1973-77) and Chargers (1978-86), and his teams made six playoff appearances.
Among the coaches who learned under Coryell at San Diego State were future Hall of Famers John Madden and Joe Gibbs. Coryell also is a member of the College Hall of Fame and was the first coach to win 100 games at both the college and NFL levels.
Also inducted Saturday with cornerbacks Ronde Barber, Darrelle Revis and Kevin Riley; linebackers Chuck Howley and Zach Thomas and pass rusher DeMarcus Ware, defensive tackle Joe Klecko and offensive tackle Joe Thomas.
Zach Thomas, the fifth-round pick in the 1996 draft by the Miami Dolphins, said the induction fell on the 27-year anniversary of when coach Jimmy Johnson named him the team's starting middle linebacker. He would become a seven-time Pro Bowler while playing 12 of his 13 overall seasons (1996-2008) with the Dolphins.
"He's the hardest working player that I ever coached, with extreme talent," Johnson said during his presentation of Thomas. "He made every play. He made every tackle."
Revis was a seven-time Pro Bowler who was considered the best cornerback in the game during his first tenure (2007-12) with the New York Jets. He said he would've preferred to play basketball.
"Basketball was my first love, so it's kind of surreal to be here today in the Pro Football Hall of Fame," Revis said during his speech. "Life is shaped by the choices we make, but there is one thing we cannot choose. Where we come from is chosen for us. No one has control over when they're born, what family they're born into or where they start.
"But these things have a profound impact on every decision we make and who we become. The conditions had to be just right for me to end up here. Every moment, every opportunity perfectly aligned."
One of the most popular players on Induction Day was Joe Thomas, the former mainstay of the Cleveland Browns offensive line from 2007-17. Thomas started all 167 games that he played and earned 10 Pro Bowl bids in 11 seasons.
"It's the greatest honor of my career to be able to accept this lifetime award on behalf of all of Browns Nation," Thomas said. "Cleveland, you could always count on me. Thank you so much for allowing me to count on you. Don't forget to show up for each other."
--Field Level Media