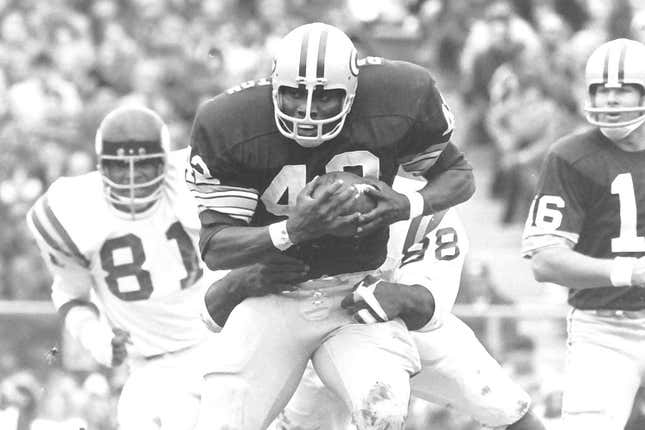 Three-time Pro Bowl running back John Brockington died Friday in San Diego, the Green Bay Packers said. He was 74
Air Jordans are more American than McDonald's French fries | Deon Cole's Ultimate Sports Fantasy
Brockington, a member of the Packers Hall of Fame, topped 1,000 rushing yards in each of his first three NFL seasons (1971-73) and was NFC Offensive Rookie of the Year and an All-Pro selection in 1971. He played six-plus seasons with Green Bay and finished his final NFL campaign (1977) with the Kansas City Chiefs
Brockington is the fourth-leading rusher (5,024) in franchise history. The players with more are leader Ahman Green (8,322 from 2000-09), Hall of Famer Jim Taylor (8,207 from 1958-66) and current Packer Aaron Jones (5,284 from 2017-2022).
The cause of death was not revealed.
Brockington received a kidney transplant from fellow San Diegan Diane Scott in 2002 to save his life. Brockington and Scott married two years later.
"The Packers family was saddened to hear about the passing of John," Packers president/CEO Mark Murphy said in a statement. "One of the great runners of his era, John was an exciting player to watch with his powerful running style. Fans enthusiastically welcomed John back to Lambeau Field over the years, fondly remembering the 1972 division championship as well as the bright spots he provided in the less-successful seasons
"I enjoyed getting to know John during his return visits to Green Bay and greatly respected his work in support of organ donation through the John Brockington Foundation. He leaves a wonderful legacy. We extend our condolences to his wife, Diane, and his family and friends."
Brockington, a bruising 6-foot-1 and 225 pounds, finished his NFL career with 5,185 rushing yards and 30 touchdowns in 95 games (84 starts). He added 157 receptions for 1,297 yards and four scores.
Brockington was a first-round selection (ninth overall) in 1971 after a standout final season at Ohio State when he rushed for 1,142 yards and 17 touchdowns.
A native of Brooklyn, N.Y., Brockington was inducted into the Packers Hall of Fame in 1984 and the Ohio State Athletic Hall of Fame in 2002
--Field Level Media