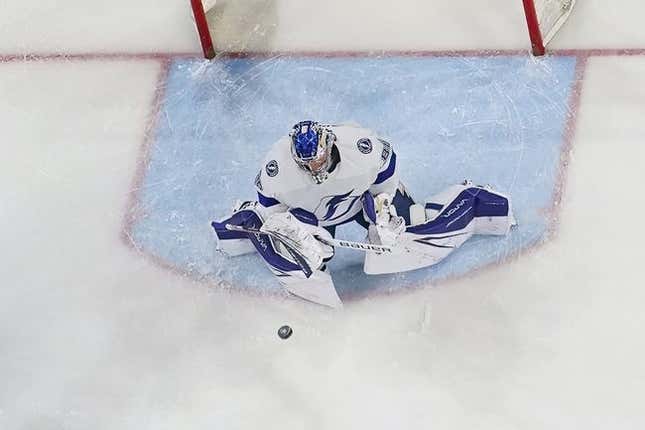 Stuck in their longest run of regulation losses this season, the Tampa Bay Lightning completed a four-game road trip by playing the type of hockey they likely will need when the Stanley Cup playoffs start next month
Chris Paul should ride the bench next season | Keep it a Buck(et)
On Thursday night in Tampa, the Lightning will face the Washington Capitals for the third and final time in the regular season
Tampa Bay (43-26-6, 92 points) were on an 0-4-0 skid before pasting the Carolina Hurricanes 4-0 on Tuesday in Raleigh, N.C.
The Lightning struggled through a five-game losing streak that began on Feb. 26, but they earned a point in a 5-4 overtime setback to the Pittsburgh Penguins on March 2 in the middle game of that stretch
The earlier skid featured an embarrassing 6-0 loss at Carolina, but the Lightning were more than up to the task in settling the score a bit with the Hurricanes on Tuesday
Brayden Point had two goals and an assist, Steven Stamkos added a goal and two helpers, Alex Killorn scored and Andrei Vasilevskiy posted 31 saves for his third shutout of the season in the streak-busting victory.
"That's the hockey that you've got to play at this time of the year," Stamkos said. "We know what the recipe is. It's just about executing."
The game featured postseason-style hockey.
"That's how we've got to play if we want to do anything in the spring," Lightning coach Jon Cooper said
The Capitals (34-32-9, 77 points) dropped a defensive-oriented contest against the visiting New York Islanders on Wednesday, losing 2-1 in a shootout
Washington left winger Conor Sheary scored the tying goal in the second period -- his 15th tally of the season -- but neither team found the back of the net in the third or the three-on-three overtime session.
In the shootout, Washington's Evgeny Kuznetsov and New York's Bo Horvat pocketed goals in the opening round. The Capitals' T.J. Oshie had his wrist shot stopped by New York goalie Ilya Sorokin before Kyle Palmieri netted his attempt for the Islanders. Sorokin then denied Nicklas Backstrom's forehand effort to end the contest
"It's tough that we lost the game, lost a point ... It's frustrating," Washington coach Peter Laviolette said. "It was tight out there. We knew it would be that way and that type of game -- low scoring, not a lot of shots, not a lot of chances."
Washington dropped to 1-3-2 in its past six games and is 5-5-3 in the campaign's final full month. The Capitals, who haven't missed the playoffs since the 2013-14 season, sit five points behind the Penguins in the race for the final Eastern Conference wild-card spot
The Lightning and the Capitals split a home-and-home set played on Nov. 11 and Nov. 13, with each holding serve on home ice
Following Washington's 5-1 win, the Lightning's Mikhail Sergachev produced the finest offensive showing of his NHL career. The Russian defenseman scored twice and dealt out two assists -- all in the game's first 17 minutes -- as Tampa Bay won 6-3
--Field Level Media