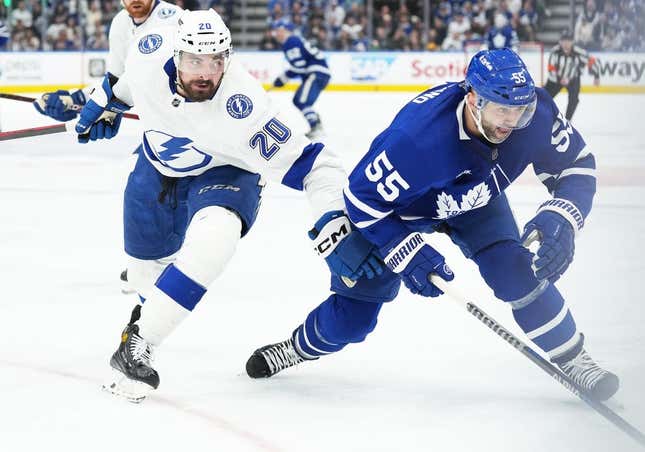 Naturally, Tampa Bay Lightning coach Jon Cooper is happy to have another home game on the schedule, but he seemed almost giddy about hosting the Toronto Maple Leafs in Game 6 on Saturday night despite trailing 3-2 in the series
'Soccer fandom is full of gatekeepers' says Ted Lasso actor Brendan Hunt
A Lightning victory would send the first-round best-of-seven series back to Canada for Game 7 on Monday
"This game's so damn fun," Cooper said inside the Toronto arena after Thursday's 4-2 win. "You have two teams going at it. There's so many storylines. There's stars here. I guess you could say, wouldn't you guys have been pissed off if this ended tonight?
"So let's all be back here for Game 7."
Last season in nearly an identical scenario with the Leafs again holding home-ice edge, Tampa Bay trailed 3-2 in the series before rallying to eliminate Toronto in the first round.
On Thursday, Michael Eyssimont and Anthony Cirelli had a goal and an assist apiece, but it was a 28-save effort by goaltender Andrei Vasilevskiy that Cooper thought was essential.
"They dug their heels in tonight, and I think who really dug his heels in tonight was Vasi," Cooper said. "His name has come up a lot for various reasons over the last couple days, and I think he proved he could handle the high shots."
For the Leafs, history is possibly forming like a thunderstorm above the club, which finished second in the Atlantic Division to the history-making Boston Bruins.
Toronto's recent history has been defined by superstar skill, especially among the forward corps, failing in postseason play when their standout talent is needed the most.
Toronto hasn't claimed a postseason series since 2004 and is winless in its previous 11 elimination games, dating back to a Game 7 loss to Boston in 2013.
The Leafs led 4-1 5:29 into the third period in that one but the Bruins tallied three times and sealed the series on Patrice Bergeron's game-winner in overtime.
Leafs coach Sheldon Keefe said Thursday's setback wasn't about playing poorly under pressure but more about the performance of their division foe wearing visiting white.
"(We) didn't get the result," said Keefe said. "But I don't think it has anything to do with the moment or anything like that. It's a good hockey team we're playing. They played as perfect a road game as you could probably ask."
Added star forward Auston Matthews, "It's all five guys. We need to be at a good place and have communication. Their forecheck has been very aggressive."
Though the Lightning were 28-8-5 at home during the regular season, the home side has won just once in five games of the series thus far -- Toronto won 7-2 in Game 2 after being blown out 7-3 in the opener
The Leafs could also have forward Michael Bunting back in the lineup after serving a three-game suspension for a hit to the Lightning's Erik Cernak and then being scratched for Game 5
Bunting notched 23 goals and 49 points this season.
--Field Level Media