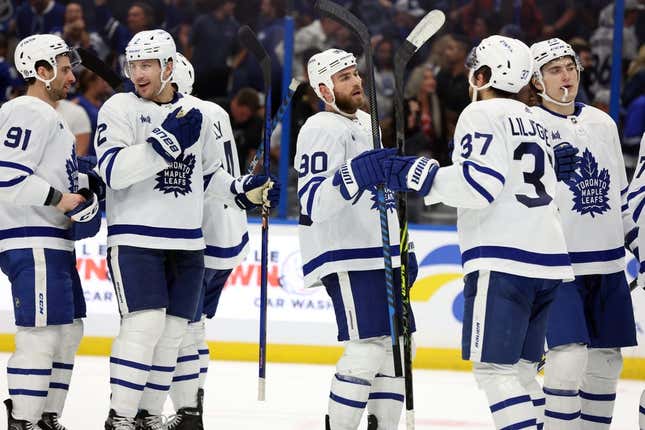 The last few games on the schedule essentially have been exhibitions for the Tampa Bay Lightning, who may not want to carry a season-worst five-game losing streak into next week's playoffs
Bass' ERA stinks, but not compared to who he is off the mound | Worst of the Week Countdown
Having lost four straight games in regulation, the Lightning (45-30-6, 96 points) will try to regain momentum Thursday when they close the regular season at home against the Detroit Red Wings (35-36-10, 80 points)
Lately, losing has been the way for the defending Eastern Conference champions, whom many pundits say will simply "flip a switch" when the postseason commences and regain the form that sent them to the Stanley Cup Final the past three years.
After Tuesday's 4-3 home loss to the Toronto Maple Leafs, coach Jon Cooper's bunch left the ice in defeat for the eighth time in the past 11 contests (3-8-0).
That skid sports two four-game losing streaks sandwiching a trio of wins over the Carolina Hurricanes, Washington Capitals and New York Islanders.
Cooper didn't put much importance in the setback against the Maple Leafs -- his club's first-round opponent in the playoffs. He likely feels the same about the season finale against the Wings.
Toronto scratched star forwards Auston Matthews and Mitchell Marner, defenseman Mark Giordano and No. 1 goaltender Ilya Samsonov.
"There was zero intensity in that game, there was none," Cooper said. "... That was an exhibition game. We'll get something out of it at some point when we go back and look at the tape, but they had players that play lots of minutes for them out of the lineup."
The match featured 20 penalties and a pair of fights, including former teammates Luke Schenn, now with the Leafs, and Pat Maroon. In all, there were 14 power plays between the teams.
Added Cooper after his side's 0-for-8 showing on the man advantage, "It was a weird game. I don't know if anybody got anything out of that game. Clearly there was a mandate to call some penalties."
The Red Wings have won two of the three matchups against the Lightning but was shut out by goalie Andrei Vasilevskiy on Feb. 25 in Detroit. He made 45 saves in a 3-0 win
The Wings played a strong second period on Tuesday but the Metropolitan Division-leading Hurricanes pulled away for a 4-1 victory behind Antti Raanta's work in the crease.
Detroit coach Derek Lalonde said he was pleased with his squad's effort and hoped the group would stick to the process in the season finale against a third straight playoff team.
"Play the right way," Lalonde said. "Give us a chance. Just do the right thing, concentrate on the process and hopefully that will take care of itself."
Despite the strategy that the team is stressing, the process's results have been poor over the past 24 games (7-15-2).
The Lightning will be the fifth consecutive team that is either playoff-bound or was in contention for a wild-card berth when it played Detroit
Captain Dylan Larkin (lower body) missed Tuesday's game and holds a career-high mark in points with 79. His 32 goals and 47 assists match personal-best accomplishments, with the former tying his total in 2018-19 and the latter equaling his sum in 2017-18.
--Field Level Media