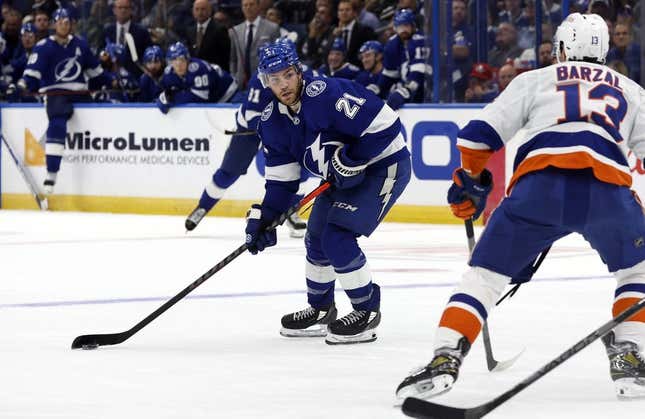 Andrei Vasilevskiy stopped all 38 shots he faced Saturday night for the Tampa Bay Lightning, who clinched a playoff spot by cruising to a 5-0 victory over the visiting New York Islanders
'Soccer fandom is full of gatekeepers' says Ted Lasso actor Brendan Hunt
Mikhail Sergachev, Tanner Jeannot, Nikita Kucherov, Steven Stamkos and Brayden Point all scored for the Lightning (45-26-6, 96 points), who are in the playoffs for the sixth straight season and will be looking to advance to the Stanley Cup Final for the fourth straight year
Tampa Bay won back-to-back Stanley Cups in 2020 and 2021 and advanced to the finals by beating the Islanders in the semifinals both times. The Lightning fell to the Colorado Avalanche in six games last June
The Lightning also clinched no worse than third place in the Atlantic Division and ensured a first-round rematch with the Toronto Maple Leafs, who remained four points ahead of Tampa Bay by virtue of a 3-0 win over the Ottawa Senators on Saturday
The shutout was the fourth of the season for Vasilevskiy.
The loss snapped a two-game winning streak for the Islanders (39-29-9, 87 points), who hold the first wild-card spot in the Eastern Conference. New York is two points ahead of the second wild card, the Florida Panthers, and three points ahead of the Pittsburgh Penguins
Ilya Sorokin was chased after giving up four goals on 21 shots. Semyon Varlamov stopped 10 shots in relief.
Sergachev opened the scoring when his shot from the blue line glanced off the leg of Islanders defenseman Alexander Romanov and past Sorokin with 2:07 left in the first period
Pierre-Edouard Bellemare skated around the back of the net and dished into the crease to Jeannot, who flicked the puck under the legs of defenseman Scott Mayfield and beyond Sorokin's pads at the 3:42 mark of the second.
Point set up Kucherov's breakaway goal with a pass through the neutral zone to the streaking right winger at the edge of the Islanders' zone. Kucherov, with several strides on Noah Dobson, bore in and beat Sorokin with 10:03 left in the middle period
Stamkos ended Sorokin's night with 8:15 left when a pass from Darren Raddysh glanced off Stamkos' foot as he battled for position with Samuel Bolduc, and Stamkos fluttered the puck past the Islanders' goalie
Point capped the shutout by scoring from the slot with 6:34 left in the third.
--Field Level Media