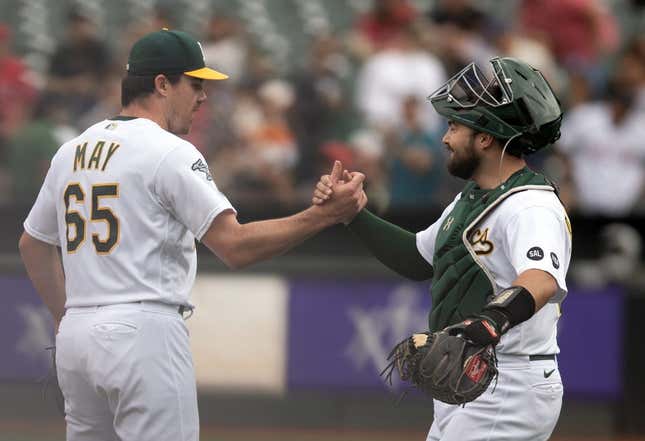 Oakland Athletics manager Mark Kotsay hopes to continue to disappoint a large group in attendance when his team goes for a three-game sweep over the visiting Los Angeles Angels on Sunday.
How running an NFL team is like running a restaurant | Chef Emeril Lagasse
Many in the crowd of 13,709 were last heard booing Saturday afternoon even though the Athletics (41-95) survived a nail-biting finish for a 2-1 victory over the Angels (64-72).
That's because the man that many had come to see — Angels star Shohei Ohtani — was walked intentionally with two outs and the potential tying run at third base in the ninth inning. Oakland's strategy worked, however, as Brandon Drury flied out to center field to end the game.
It was the second time Ohtani, the majors' home run leader, had been walked intentionally in the game. Both times, the A's got out of the inning unscathed.
"The only guy in their lineup who can really beat you is Shohei," Kotsay said. "In both instances, there was a base open. We weren't going to let him beat us. We were fortunate today to be successful with that theory and method.
"I know everyone comes to see Shohei hit. In that situation (in the ninth), he could easily pop one out of the ballpark and you could be down 3-2 really easily."
Drury, the hero of the Angels' most recent win Wednesday against the Philadelphia Phillies, went 0-for-4 with runners in scoring position slotted behind Ohtani on Saturday.
"It's been tough, we haven't been playing good baseball, and there's been all that stuff about the waiver wire," Drury admitted, referring to six players being placed on waivers earlier in the week. "It's been tough for us, but there's no other option but to keep playing. So we're going to keep going and fight until the end."
Those who attended Saturday's game with other intentions than to see the A's win had another moment in the fifth inning. Angels rookie shortstop Kyren Paris, promoted from Double-A Rocket City before the series, led off the inning with a single to center field for his first big-league hit.
Paris, a Northern California native, went straight into the Angels organization as a second-round pick in 2019 after high school.
Coincidentally, the 21-year-old Paris was the reason Ohtani wound up intentionally walked later in the fifth inning, as his steal of second — also the first of his big-league career — created the open base that the slugger filled two outs later.
Ohtani has gone 1-for-5 with four walks in the series. He'll make his next plate appearance on Sunday against A's left-hander Kyle Muller (1-5, 7.67 ERA), who recorded a no-decision against the Angels on Opening Day despite limiting them to one run in five innings.
Ohtani went 1-for-2 with a single against Muller in his only career outing against the Angels.
Seeking to avoid a sweep, the Angels have scheduled left-hander Tyler Anderson (5-6, 5.58) for the series finale. He pitched the second game of the season in Oakland and shut out the A's on four hits over six innings in a 6-0 win.
The 33-year-old has pitched brilliantly against Oakland in his career, going 3-0 with a 0.79 ERA in four starts.
Anderson went 0-4 with an 8.10 ERA in five August starts, although all five outings were against playoff contenders.
—Field Level Media