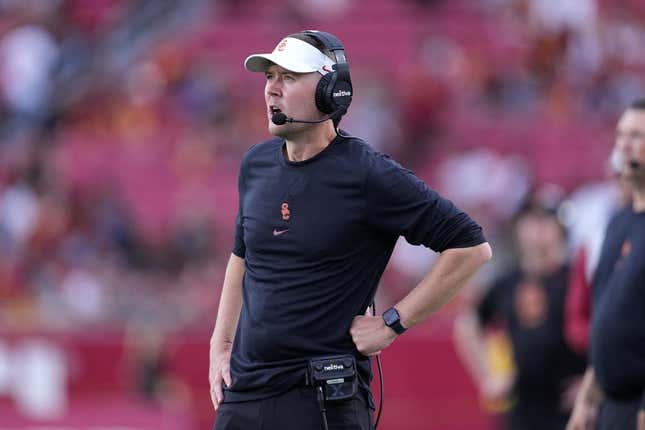 Southern California coach Lincoln Riley said he was concerned for his family's safety and hired armed security after announcing he was leaving Oklahoma for the Trojans in November 2021.
How running an NFL team is like running a restaurant | Chef Emeril Lagasse
Riley said there were numerous break-in attempts at his Oklahoma home, and he received suspicious packages from people he didn't know.
"Yeah, I had multiple ... had a lot of different people trying to break into the house the days after it happened. And 95 percent of the fans and people out there at Oklahoma or anybody else are great," Riley said on an episode of the YouTube series "In Depth with Graham Bensinger."
"You typically always have that percentage that at times take it too far," Riley continued. "Obviously, this was one of those instances."
Riley had coached the Sooners for five seasons (2017-21), going 55-10 with four consecutive Big 12 titles and three berths in the College Football Playoff.
After a regular-season loss to rival Oklahoma State on Nov. 27, USC announced Riley as its coach one day later in a stunner for the Sooners and their fans.
The Riley family includes two daughters that were ages 5 and 9 at the time, and the plan was to allow them to finish the fall semester at school in Oklahoma. The break-ins and other incidents, including someone getting access to the older daughter's cell phone number, changed their plans and the entire family moved to California.
"I told my wife and the couple of people that I confided in the night we made the decision, I told them it's going to be bad," Riley said. "A couple of people were like, 'Well, it'll be a few hours, a few days, but it'll blow by.' I said 'No, I've lived in these shoes. It's going to be that bad.' "
The Trojans were 11-3 in his first season in 2022 with losses to Utah in the Pac-12 Championship game and to Tulane in the Cotton Bowl. They are 3-0 this season and ranked No. 5 in The Associated Press and coaches polls.
—Field Level Media