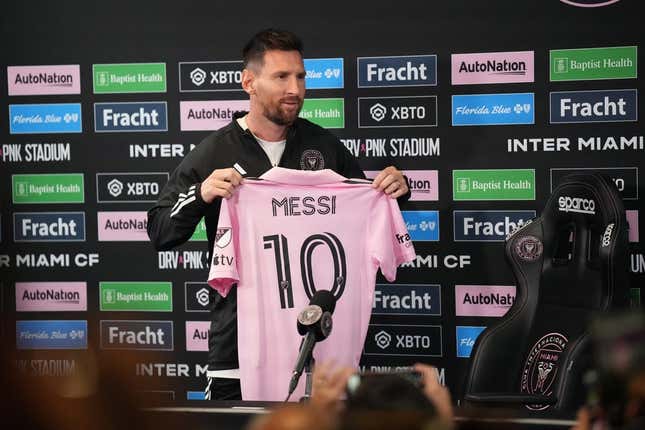 To hear Lionel Messi tell it, Major League Soccer is on par with Mexico's top soccer league and coming for the top European leagues next.
How running an NFL team is like running a restaurant | Chef Emeril Lagasse
Messi spoke highly of his new club, Inter Miami, and his new league on Thursday in the soccer superstar's first set of media interviews since leaving Paris Saint-Germain to come to the United States.
Messi has powered a new-look Miami squad to the final of the Leagues Cup against Nashville SC on Saturday. He has scored nine goals in his first six matches of the midseason tournament that featured all 47 teams in MLS and Liga MX.
"(MLS teams) compete as equals against every (Liga MX) team," Messi told "SportsCenter Argentina" in Spanish. "You can question a lot of things, but the reality is that all the games were very even, very competitive, anybody could beat anybody.
"I have the feeling it's the same in the league (MLS). That it's a very competitive league, anybody can beat anybody, teams playing at home are strong and it's very hard to win on the road."
Messi later told an ESPN reporter that MLS has "every opportunity" to rise to the level of competition he experienced throughout his career in Europe.
"That growth depends a lot on the league," Messi said. "It's an ideal moment to grow. There are important competitions upcoming that will be played in this country.
"It's time for the league to make that leap and finish growing, finish looking for what it's been seeking for a while. Everything is in place here to witness top-level football because of the country, the structure, a bunch of things."
Messi does not believe he has a direct responsibility to grow soccer in the United States, the way that legends Pele and David Beckham did in their times playing for American clubs.
But he complimented the overall state of American soccer, including the U.S. men's national team, which reached the Round of 16 at last winter's World Cup in Qatar where Messi guided Argentina to the trophy.
"I think soccer in the United States has grown a lot over these last few years — the U.S. national team's results of late are proof of that," he said. "In the World Cup as well, the United States were a great team, very competitive."
When the Leagues Cup concludes and MLS returns to its regular season, Inter Miami's road dates will include matches at Atlanta United and Charlotte FC, both of whom play on artificial turf inside NFL stadiums.
It previously was not clear whether Messi would want to play on those fields, but he gave assurances Thursday that he will.
"The truth is I played on artificial turf during my entire youth career, I played on that pitch all my life," he said. "It's true that a lot of time has passed since I played on artificial turf, but I have no problem in adapting myself again."
—Field Level Media