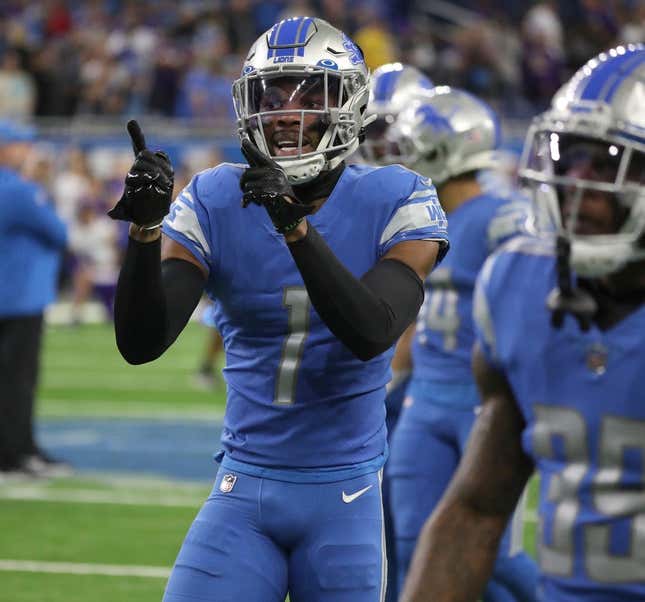 Lions head coach Dan Campbell liked the newcomers signed in free agency and Detroit's returning depth at cornerback so much that he felt former No. 3 overall pick Jeff Okudah was better off being dealt to the Atlanta Falcons
Bass' ERA stinks, but not compared to who he is off the mound | Worst of the Week Countdown
Campbell said the Lions aren't necessarily keying in on a cornerback with the No. 6 overall pick in the April 27 draft, and he praised the additions made by general manager Brad Holmes for sprucing up the secondary
The Lions signed cornerback Cameron Sutton, safety C.J. Gardner-Johnson and defensive back Emmanuel Moseley to shore up the pass defense. Moseley is coming back from a torn ACL
"We knew we wanted to upgrade the secondary and we've been pleased with the upgrades that we've made, man," Campbell said on the Rich Eisen Show. "Bringing in Sutton and Moseley, and then getting C.J. Johnson from Philadelphia, we feel like we really beefed up that area. And we still got Jerry Jacobs, we got Will Harris back. So we've got a group and we just felt pretty good with the additions we made."
Holmes and Campbell were hired after Okudah was already in Detroit. The Ohio State product was drafted No. 3 overall in 2020, three spots ahead of Los Angeles Chargers quarterback Justin Herbert and 19 spots higher than wide receiver Justin Jefferson (22nd overall, Minnesota Vikings).
"We really felt like, at this time, this is probably the best thing for us and for Jeff," Okudah said. "A new change of scenery and give him a fresh start. We felt really good about our guys. And, look, man, I appreciate Jeff. He was a pro, he came to work, he busted his ass. He worked at it. He was coming off an injury last year and we just felt like, 'You know what, this is the right thing to do right now.'"
Detroit dealt Okudah to the Falcons for a fifth-round draft pick. While his play was improved in 2022 in the view of defensive coordinator Aaron Glenn, injuries have been a major factor for Okudah throughout his career.
In 2022, Okudah suffered a concussion in Week 11, missed Week 12 and was benched Week 17 against the Chicago Bears before not playing in the regular-season finale at Green Bay.
A former standout NFL cornerback with the Jets, Glenn said after the 2022 season that he told Okudah that "he has to improve. ... There is always going to be peaks and valleys when you play that position. You try to stay at the top as much as you can. But it's hard. It's hard. But I'll tell you what, he is busting his butt. His trying his butt off to be at that top of the peak all the time."
The move likely came after input from new senior defensive assistant John Fox, the former NFL head coach who was hired to serve as a veteran set of eyes for Campbell -- drafted by the Giants when Fox was defensive coordinator in 1999 -- and Glenn.
--Field Level Media