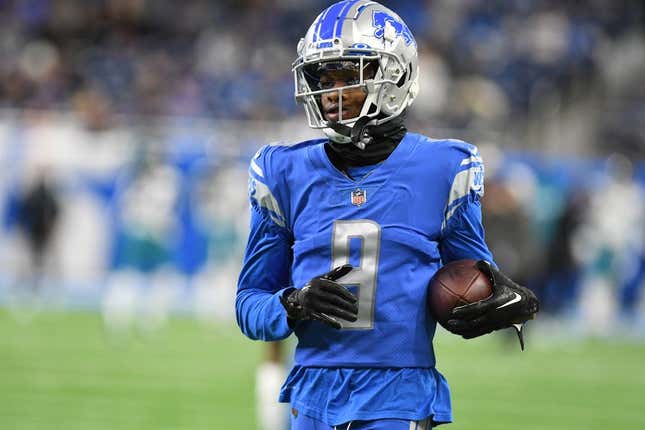 Detroit Lions first-round pick Jameson Williams was one of five NFL players suspended for violations of the league's betting policy
Four Lions' players and "multiple business and football" employees were identified by the NFL in the league's most significant crackdown in the online betting era. The Lions said they fully cooperated with the NFL investigation that began at least a month ago
Washington Commanders defensive end Shaka Toney also was suspended indefinitely
NFL partnerships and branded team agreements with betting organizations such as BetMGM and PointsBet, whose logos appear at FordField and throughout the city, haven't changed league rules that prohibit players from betting on NFL games or placing any type of wager -- including poker, blackjack or sports bets -- while at a team or league facility.
"A league review uncovered no evidence indicating any inside information was used or that any game was compromised in any way," the NFL said Friday.
Two Lions players that were released Friday after the ruling -- wide receiver Quintez Cephus and special teamer C.J. Moore -- are suspended indefinitely and "ineligible to apply for reinstatement in 2023.
Williams, drafted 12th in the first round in 2022, and a third Lions' receiver, Stanley Berryhill, are suspended for the first six games of the 2023 regular season for betting on non-NFL games with their cellphones while at the team facility
"These players exhibited decision-making that is not consistent with our organizational values and violates league rules." general manager Brad Holmes said in a statement. "We have made the decision to part ways with Quintez and C.J. immediately. We are disappointed by the decision-making demonstrated by Stanley and Jameson and will work with both players to ensure they understand the severity of these violations and have clarity on the league rules moving forward."
The Commanders also issued a statement
"We have cooperated fully with the NFL's investigation since receiving notice and support the league's findings and actions," the team said. "All further questions on the topic should be directed to the NFL League Office."
NFL Network reported Williams and Berryhill placed bets on college football games.
The Lions signed free agent Marvin Jones Jr. around the time the investigation was thought to have begun
Jacksonville Jaguars receiver Calvin Ridley was suspended for a year for gambling infractions as a member of the Atlanta Falcons and was reinstated to begin team activities. The league said Ridley made wagers on NFL games of at least $1,500 while away from Atlanta for personal reasons.
--Field Level Media