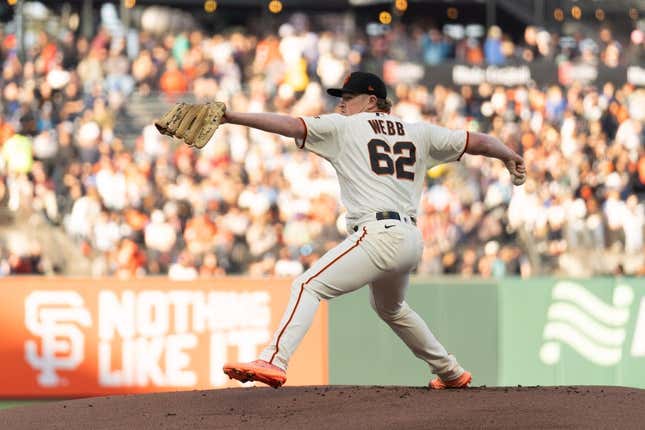 Right-hander Logan Webb hopes to finish off the first half of the season differently than he started it when the San Francisco Giants hand him the ball for the finale of a three-game series against the visiting Colorado Rockies on Sunday afternoon
How running an NFL team is like running a restaurant | Chef Emeril Lagasse
The teams have split the first two games of the set, with the Giants drawing even with a 5-3 victory on Saturday after the Rockies had opened with a 5-2 win
The ace of the Giants' staff, Webb (7-7, 3.38 ERA) has endured a roller coaster of a first half, mirroring that of a team that finds itself in third place in the National League West
The 26-year-old was beaten 5-0 by the New York Yankees on Opening Day, beginning a run of four consecutive defeats to open the season.
The Giants have lost each of Webb's last two starts as the All-Star break approaches. Webb recorded a loss against the Toronto Blue Jays on June 28 before striking out 11 in 6 2/3 innings and settling for a no-decision against the Seattle Mariners on Monday -- a game San Francisco ended up losing 6-5
In between the six combined team defeats, five of which resulted in losses on his ledger, Webb went 7-2 with a 2.64 ERA across 12 starts, prompting Giants manager Gabe Kapler to suggest that he might be an All-Star candidate
Webb has gone 6-2 with a 3.97 ERA in 12 lifetime appearances (11 starts) against the Rockies. He did not get a decision in the Giants' 5-4 win at Colorado last month, allowing four runs in 5 1/3 innings
Webb likely will not experience the comfort of having defensive whiz Brandon Crawford behind him at shortstop. The veteran had to come out of Saturday's game with a tight left hamstring, and with the All-Star break one day away, Kapler noted it would take unusual circumstances for him to make an appearance Sunday.
"I don't plan on having him in the lineup," Kapler said. "Hopefully we'd have him available off the bench to pinch-hit in a big spot. Maybe he'll play some defense for us.
"He could have stayed out there (Saturday), but that wasn't the right decision for this group. That wouldn't have been real smart."
In the series finale, Giants hitters will get their cracks at Rockies left-hander Kyle Freeland (4-9, 4.93), who is winless in his last nine starts, going 0-5 with a 6.95 ERA. He is coming off a 4-1 loss at Houston on Tuesday in which he allowed all four runs in 6 1/3 innings
The 30-year-old will be making his 21st career start against the Giants, having gone 7-5 with a 4.10 ERA in the first 20. He did not face San Francisco its sweep of the Rockies in June
Freeland figures to have one advantage over Webb -- his star shortstop, Ezequiel Tovar, almost surely will be in the lineup for the third consecutive day.
The 21-year-old contributed a tiebreaking three-run home run to Friday's win.
"He's going to be a star, right?" Friday's winning pitcher, Austin Gomber, said. "I think everybody in (the Rockies clubhouse) recognizes that, and just to see him make those adjustments -- he's so confident in himself at that age
"I mean, it's special, man. You recognize, when you've been in the game for long enough, which guys are a little different. And we're fortunate that he's one of us."
--Field Level Media