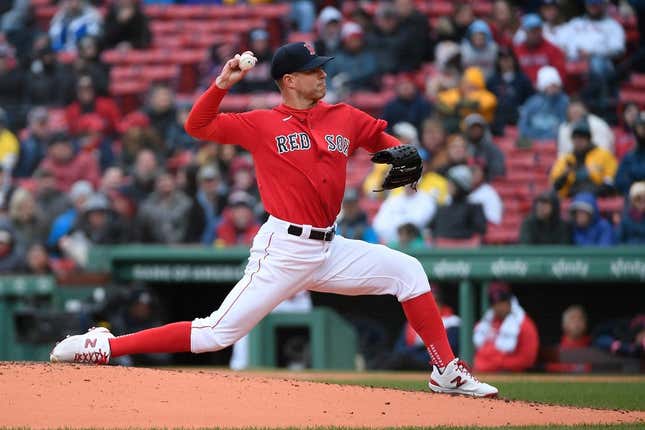 The Baltimore Orioles will attempt to extend their seven-game winning streak when they face the visiting Boston Red Sox on Tuesday in the middle game of a three-game series
'Soccer fandom is full of gatekeepers' says Ted Lasso actor Brendan Hunt
Baltimore won its seventh game in a row by rallying from a four-run deficit to beat Boston 5-4 on Monday. It was Baltimore's 11th victory in its last 13 games.
"It kind of feels like last year's team a little bit," Baltimore manager Brandon Hyde said. "We just don't blow a lot of people out. A lot of tight games. I think our players are better for it with how many tight games we played last year."
The Orioles have limited their opponents to 11 runs during the seven victories. Boston failed to score in the final six innings Monday after scoring four runs in the first three
Red Sox manager Alex Cora said Baltimore pitchers changed their game plan after first baseman Triston Casas hit a solo home run in the second inning
"They were throwing a lot of fastballs early on and then after that (the home run) it was breaking balls and changeups," Cora said. "And then they switched the script again."
Kyle Bradish (1-0, 0.00 ERA) is expected to start for Baltimore on Tuesday.
Bradish made his first start of the season April 3 against Texas, but left the game in the second inning after he was hit in the foot by a line drive. In his only start since then, he pitched six scoreless innings to earn the win in a 4-0 victory over Washington last Wednesday. He allowed five hits, struck out six and walked one.
Bradish has made five career starts against Boston and is 0-3 with a 7.54 ERA.
Corey Kluber (0-4, 8.50) will be seeking his first win of the season for Boston. He has a 6-5 record and a 4.26 ERA in 17 career starts against the Orioles
In his last outing, Kluber gave up seven runs, including two home runs, in five innings of a 10-4 loss to Minnesota last Wednesday. He walked two, hit two batters and struck out four.
Boston shortstop Yu Chang left Monday's game in the seventh inning with a wrist injury.
"He's in pain," Cora said. "He's going to get tested (Tuesday), see where we're at. Right now it's sore. That's what we can say right now. He'll get tested (Tuesday) here in Baltimore and we'll know more."
Hyde said despite the save situation, he wanted to rest reliever Felix Bautista on Monday. Yennier Cano recorded the final three outs to earn his first major league save.
"Just because of his workload here as of late and just wanted to give him a night off," Hyde said of his decision to rest Bautista.
Bautista had pitched on two of the previous three days and threw a total of 37 pitches between those outings.
Before Monday's game, the Red Sox optioned right-hander Brayan Bello to Triple-A Worcester and recalled left-hander Brennan Bernardino, who allowed four hits in two scoreless innings during Monday's loss
--Field Level Media