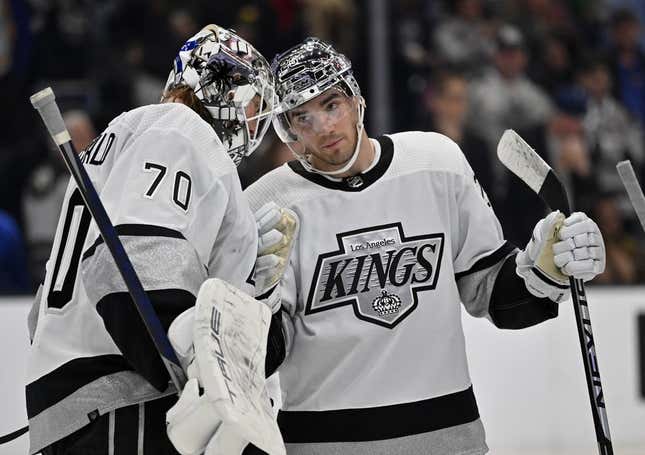 There will be plenty on the line when the Los Angeles Kings hit the road to face the Anaheim Ducks on Thursday in the regular-season finale for both squads
Air Jordans are more American than McDonald's French fries | Deon Cole's Ultimate Sports Fantasy
As the Kings prepare to meet their biggest rivals, it's with the knowledge that a victory will clinch their hold on third place in the Pacific Division. Los Angeles (46-25-10, 102 points) is two points ahead of the Seattle Kraken, who face the Vegas Golden Knights on Thursday night in their final game of the regular season
While the Kings do not wish to discuss the possibility of dropping in the standings and meeting the Golden Knights, the Central Division champions, in the first round of the Stanley Cup playoffs, they certainly were buoyed by Monday's 3-0 victory over the Vancouver Canucks that snapped a three-game skid
"Very good tune-up," Kings coach Todd McLellan said of how the victory helped his team prepare for the playoffs. "(Monday) was a good game for us to play. Not a lot of space, very tight checking, on the boards and even in open ice, there wasn't a lot of plays to be made. Faceoff circle, blocked shots, penalty kill, all the things you need to have in your game when the playoffs begin. We got an opportunity to use them all.
Goaltender Joonas Korpisalo collected his first shutout since being acquired from the Columbus Blue Jackets at the trade deadline. Korpisalo has a 6-3-1 record with the Kings
"That's pretty good for the confidence, Korpi was outstanding," Los Angeles forward Phillip Danault said. "He had to make some huge saves at key moments, so you need that going forward into the playoffs."
The Ducks (23-46-12, 58 points) will be ending a brutal season. Their 3-2 loss to the Canucks on Tuesday leaves them at the bottom of the Western Conference and in the throes of a 12-game losing skid (0-10-2), which matches the longest winless streak in franchise history
With so few victories to celebrate, the Ducks have been looking for positives for the future with a litany of new faces making their NHL debuts, and many of them adding first goals and/or points
In each of the last three games, Anaheim has relished someone playing their first big-league game.
Goaltender Olle Eriksson Ek hit the ice in Saturday's overtime loss at Arizona, defenseman Drew Helleson made his debut the next night against Colorado and on Tuesday it was Jackson LaCombe, who joined the team after finishing his fourth year at the University of Minnesota.
"He played well. He didn't seem nervous at all. Looks like he's got a little bit of ice in his veins," Ducks coach Dallas Eakins said of LaCombe. "There was a play in the third period where the puck was basically right on the line, on the blue line, and he walked it straight across with no fear. Usually, a guy will just get that puck and rip it in deep, but I thought he showed great confidence.
Helleson and LaCombe were both drafted in the second round in 2019, and Helleson scored his first NHL goal in Tuesday's loss.
"It was great to see Helly score. Since the start of the season with (the AHL's San Diego Gulls), he's probably been our top defenseman," Ducks forward Benoit-Olivier Groulx said. "It's just really good to see him get rewarded in the NHL.
--Field Level Media