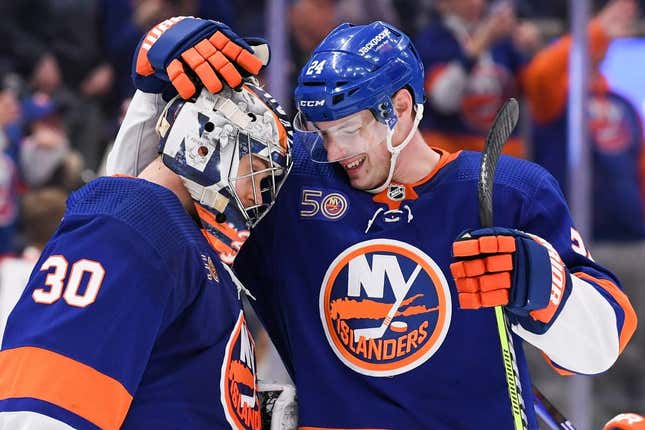 As the New York Islanders attempt to secure one of the two wild-card spots in the Eastern Conference, they are approaching their final week of the regular season with the mindset of a team in a postseason elimination game
Bass' ERA stinks, but not compared to who he is off the mound | Worst of the Week Countdown
Coming off two lopsided wins that kept them in one of the wild-card spots, the Islanders seek another crucial victory on Monday night when they visit the Washington Capitals, who could be without Alex Ovechkin
The Islanders (41-30-9, 91 points) share the same point total as the Florida Panthers but are the second wild card because of the first tiebreaker. Florida has 36 regulation wins compared to the Islanders' 35, putting New York into a first-round matchup against the league-best Boston Bruins
"If we take care of our business, we'll be in a good spot," Islanders coach Lane Lambert said. "We know what we have to do.
New York also is one point ahead of the Penguins, who have 31 regulation wins. The Islanders briefly fell behind Pittsburgh on Saturday afternoon when the Penguins cruised to a 5-1 win over the Detroit Red Wings
New York is 7-3-1 in its past 11 games since a 5-2 loss at Los Angeles on March 14. The Islanders followed up a 6-1 rout of the visiting Tampa Bay Lightning on Thursday with a 4-0 home win over the Philadelphia Flyers on Saturday when Ilya Sorokin made 15 of his 27 saves in the first period
Scott Mayfield scored in the opening period before Brock Nelson and Samuel Bolduc added goals in the second and Hudson Fasching tallied in the third. Bo Horvat, Simon Holmstrom and Noah Dobson contributed two assists apiece for New York.
"We know what situation we're in," Dobson said. "At the end of the day, you want to have control in your own hands, and we have that. ... If we keep winning, we're gonna be in a good spot."
Washington (34-36-9, 77 points) was five points behind the Islanders in the wild-card race after its 5-1 victory in Elmont, N.Y., on March 11. Since then, the Capitals are 2-8-2 over their past 12 games and are on their second six-game losing streak (0-5-1) of the season
The Capitals were a minute away from forcing overtime Saturday against Florida. A misplay by goalie Charlie Lindgren resulted in Matthew Tkachuk's tiebreaking goal with a minute left and the Capitals were handed a 4-2 loss
"We're all in this together. It's unfortunate the way it ended," Washington coach Peter Laviolette said. "I thought the guys played hard tonight. They competed hard, they were invested, they were physical, they were skating. They had to overcome a lot of things on the ice."
Tom Wilson and Dylan Strome scored in a game where the Capitals were outshot 37-24 and dressed 17 skaters due to salary cap restraints along with injuries to T.J. Oshie, Anthony Mantha and Trevor van Riemsdyk
"Obviously, we're out of the playoffs, but we're trying to play spoiler," Strome said.
Ovechkin also sat out with a late upper-body injury, marking his seventh game missed this season. The Capitals are 0-7-0 without Ovechkin, who is listed as day-to-day
--Field Level Media