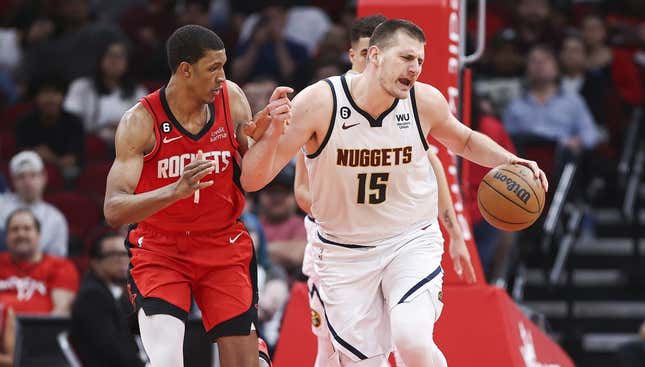 The Denver Nuggets will make another attempt at clinching the No. 1 seed in the Western Conference on Thursday night against the host Phoenix Suns, who are suddenly the hottest team in the NBA
Bass' ERA stinks, but not compared to who he is off the mound | Worst of the Week Countdown
The Suns will attempt to run their winning streak to seven games and spoil the Nuggets' clinching bid when the teams wrap up their four-game season series
The Suns (44-35) are closing in on securing the No. 4 seed in the West thanks to the streak in which they have won four games by double digits, including two by 20 or more
Phoenix has found its stride with Kevin Durant finally a consistent member of the starting lineup. Four of the wins during the current streak have occurred since Durant recovered from an ankle injury, and the Suns are 7-0 when Durant has played
Durant scored 18 points in Tuesday's 115-94 victory over the visiting San Antonio Spurs after scoring 35 and 30 points over the previous two games. He is averaging 25.6 points and shooting 58.2 percent from the field since Phoenix acquired him from the Brooklyn Nets.
Durant was just the team's fourth-leading scorer against the Spurs. Devin Booker (27 points), Chris Paul (22) and Deandre Ayton (19) spearheaded the charge.
Paul was 9 of 14 from the field -- including 4 of 6 from 3-point range -- while reaching the 20-point mark for the first time since Jan. 28 when he poured in a season-high 31 points against the Spurs.
"I never thought I'd have to tell a Hall of Fame player to shoot the ball," Suns coach Monty Williams said of Paul. "Kevin and Book are going nuts because they all want him to shoot.
Phoenix also got a boost from reserve Torrey Craig, who scored 15 points on 7-of-9 shooting and grabbed 10 rebounds for his fourth double-double of the season.
"I just wanted to come in and bring a spark," Craig said afterward. "We get a big lead and think that sometimes teams might lay down because of the guys we have. But it is the NBA and teams make runs."
The Nuggets have won two of the previous three meetings with the Suns this season, but lost 100-93 in Phoenix on March 31
That contest was one of three in a row that Denver star Nikola Jokic missed due to a calf injury.
Jokic returned to action on Tuesday, but the visiting Nuggets were pounded 124-103 by the lowly Houston Rockets. Jokic had 14 points and 10 rebounds in 25 minutes
In addition to taking the disappointing loss, Denver also lost standout guard Jamal Murray to a sprained right thumb. Murray might miss the rest of the regular season. He is listed as questionable for Thursday, as if Jokic, who landed back on the injury report due to his calf.
The Nuggets (52-27) haven't played like a dominant team lately as they have just a 6-8 record over the past four weeks. Coach Michael Malone was disturbed after the Houston setback
"If that's how we're going to play, we'll be out in the first round," Malone said of the upcoming playoffs. "When we don't do our jobs, there's accountability. And I speak the truth. I just called our team 'soft,' and I dared someone to challenge me. No one did because we as a group were soft tonight. I'm not saying we are soft, but tonight we were."
Jokic, who is vying for his third consecutive NBA MVP award, was among the culprits as he committed eight turnovers.
"Felt good," Jokic said. "Just didn't play good."
The Nuggets led by three at halftime before being outscored 68-44 in the second half
"We started the game OK, but we just lost it," Jokic said. "The whole game was in their favor. Even when we were finding open shots, we couldn't make shots. We didn't make free throws, they were blocking our shots, we had a huge amount of turnovers -- it was a one-sided game."
--Field Level Media