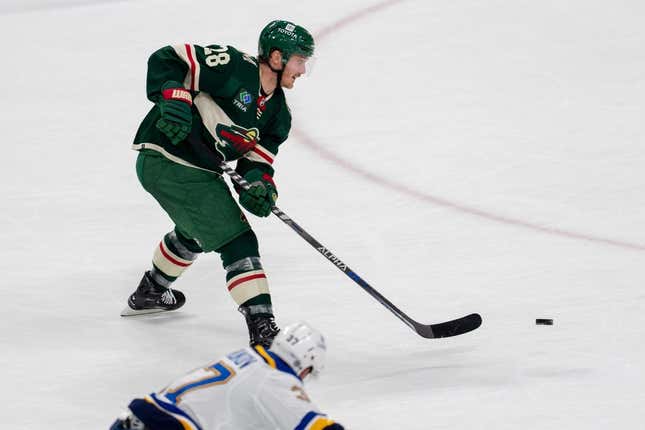 The Minnesota Wild may run out of time in their bid to reach the top of the Central Division standings, but they still hope to enter the Stanley Cup playoffs on a roll
Does Jimmy Butler have the best NBA Finals origin story? | Agree to Disagree
The Wild will kick off the final week of the regular season by visiting the Chicago Blackhawks on Monday night
Minnesota (45-24-10, 100 points) is coming off a 5-3 win against the visiting St. Louis Blues on Saturday, ending a three-game losing streak and keeping the Wild two points back of the Colorado Avalanche and Dallas Stars for first place in the Central Division
"You want to feel good about your game going into the playoffs, and that's kind of what we've said in this room to try to work on here the last three games," said Wild forward Gustav Nyquist, who made his Minnesota debut against the Blues. "That's what we're going to try to do.
Nyquist was acquired from the Columbus Blue Jackets on Feb. 28, but a shoulder injury kept him out until Saturday, when he contributed two assists in the win.
"I was just trying to play my game out there, and just trying to get going again after a long period off," Nyquist said. "It felt good to finally play hockey again."
Even better news for Minnesota on Saturday was the return of leading scorer Kirill Kaprizov, who had missed the previous 13 games with a lower-body injury. Kaprizov leads the Wild with 39 goals and 74 points this season
The Wild still aren't 100 percent, however
Joel Eriksson Ek is considered week-to-week after getting hit in the leg by a slap shot from Evgeni Malkin of the Pittsburgh Penguins on Thursday.
Eriksson Ek has a career-high 61 points in 78 games this season.
Minnesota forward Oskar Sundqvist also did not play against the Blues after leaving Thursday's game with a lower-body injury.
The injuries prompted the Wild to recall forwards Marco Rossi and Nic Petan on Sunday
Rossi, the ninth overall pick in the 2020 NHL Draft, played 16 games for Minnesota in October and November before returning to Iowa of the AHL. Petan has appeared in eight games for the Wild this season
The Blackhawks (25-48-6, 56 points) haven't been putting up much of a fight lately, getting outscored 10-3 in their past two defeats
Chicago is coming off a 7-3 loss at the Seattle Kraken on Saturday, its 10th loss in the past 11 games. The Blackhawks surrendered 19 goals in three games against Seattle this season
Chicago appeared to cut the deficit to 5-4 in the second period, but the goal was waived off after an offsides review. The Blackhawks stayed within two goals until a turnover led to a Seattle score at 11:54 of the third period, extending the lead to 6-3
"We're a team right now where we can't do that," Chicago coach Luke Richardson said.
Chicago has dropped its first three meetings against the Wild this season, falling 4-3 in a shootout on Oct. 30 in Chicago before 4-1 and 3-1 defeats in St. Paul, Minn., on Dec. 16 and March 25
--Field Level Medias