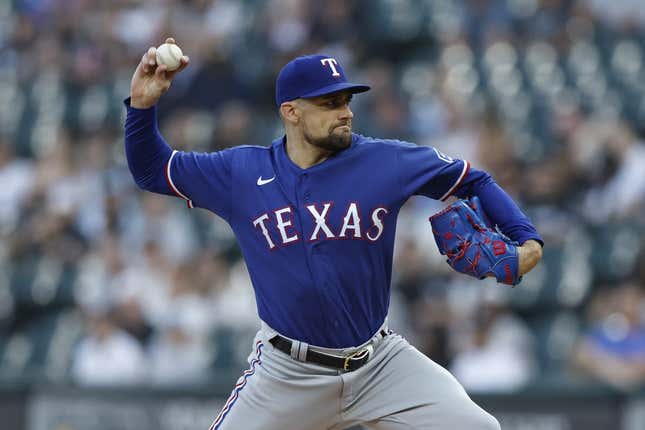 The New York Yankees received sobering news Saturday when slugger Aaron Judge said he has a torn ligament in a toe and is not quite ready to start baseball activities
How running an NFL team is like running a restaurant | Chef Emeril Lagasse
Then they walked the fine line of continuing life without the slugger and held on for a victory over one of the American League's best teams.
After surviving another game without Judge, the Yankees seek a series win when they host the Texas Rangers on Sunday afternoon
Both teams will have their aces on the mound as Gerrit Cole opposes Nathan Eovaldi after the Yankees hung on for a 1-0 victory. The Yankees evened the series when Billy McKinney hit his fourth homer since replacing Judge and Ron Marinaccio struck out three straight batters with two on in the ninth to secure the save
"Right now we have to go out with what we got and try to win games and not worry about (Judge being out)," New York starter Luis Severino said. "We want Judge in the lineup, but right now he needs to be healthy."
The Yankees head into Sunday 7-10 since Judge sprained his right toe at Dodger Stadium on June 3. New York is 11-16 with Judge on the injured list this year, is hitting a major-league-worst .191 this month, and Saturday marked the 12th time its offense was held to three runs or fewer since Judge's last game
"The reality is we're without him right now and we got to find a way to get it done," New York manager Aaron Boone said before McKinney reached safely for the 15th straight game since joining the team.
Texas is hitting a major-league-best .312 with runners in scoring position and heads into Sunday 5-2 in its past seven games overall since a 2-7 slump earlier this month. Marcus Semien, the last of the strikeout victims on Saturday, had three of the Rangers' eight hits, but the offense went 1-for-9 with runners in scoring position, stranded 10 and got blanked for the sixth time this year
"That big hit just eluded us," Texas manager Bruce Bochy said. "We had the right guys up there late in the ballgame, a couple of innings. You couldn't ask for a better situation, but they pitched out of it."
Eovaldi (9-3, 2.80) will pitch on four days' rest for the sixth time this season. Eovaldi is 2-2 with a 3.28 ERA when pitching on four days' rest and is making his fourth consecutive start on four days' rest.
Eovaldi won seven straight decisions from April 29 to June 10 but is 0-1 with a 4.85 ERA over his past two outings. He took a no-decision Tuesday in Chicago against the White Sox when he allowed four runs and five hits in six innings.
Eovaldi is 4-4 with a 3.47 ERA in 19 career appearances (16 starts) against the Yankees, for whom he won 23 games in 2015 and 2016 before getting hurt. On April 29 in Texas, he pitched a three-hit shutout on 113 pitches
The Yankees will start Gerrit Cole (8-1, 2.64), who is 2-1 with a 1.78 ERA in four starts this month after posting a 5.18 ERA in his previous six outings. Cole got the win Tuesday against the Seattle Mariners when he allowed a run on four hits in 7 1/3 innings, marking the eighth time he allowed one run or fewer this year
Cole is 6-4 with a 3.75 ERA in 14 career appearances against Texas. He last faced them April 27 in Texas when he allowed two runs on six hits in 6 2/3 innings to improve to 5-0 this season.
--Field Level Media