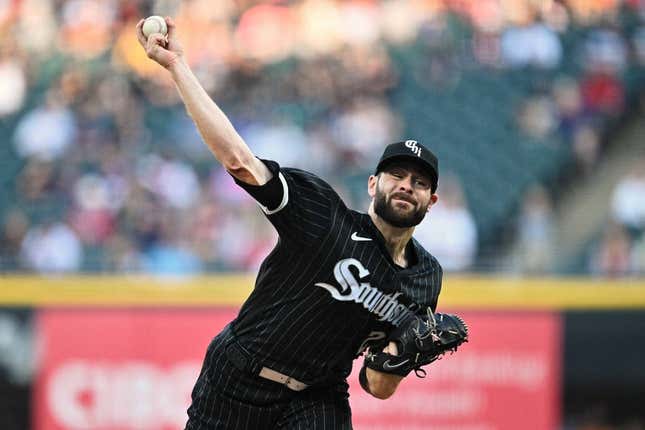 Could Sunday's first-half finale double as Lucas Giolito's last home start as a member of the Chicago White Sox
How running an NFL team is like running a restaurant | Chef Emeril Lagasse
The veteran right-hander sure hopes not, although he understands the possibility.
Giolito (6-5, 3.50 ERA) is pitching effectively as he gets set to face the St. Louis Cardinals, and with a contract that expires after the season, he could be attractive trade bait as the White Sox sink in the American League Central standings
Chicago opens the second half with a nine-game road trip and isn't set to return to Guaranteed Rate Field until a week before the Aug. 1 trade deadline. Ask Giolito, however, and the circumstances are moot.
"I get it," said Giolito, a mainstay in the White Sox rotation since 2018. "You want to win; you want to have the best opportunity to win. But for me, it's the loyalty I have for these guys. I want us to win. And even though we got off to a really, really bad start, I still feel that's possible. I want to be able to do that for the rest of the season with these guys.
Despite a record that's 15 games under .500, the White Sox stand eight games behind Central-leading Cleveland entering play Sunday
A first half that included a 10-game losing streak among six losing streaks of at least three games -- compared to just three such winning streaks --- staggered Chicago, to be sure, but there's still a perk to being in baseball's worst division.
"If we can just get hot and fire on all cylinders offensively and defensively ... it gives me hope that we can get back in the race and win the division," Giolito said. "And I want to be here for that run, especially since after this year, it's like, the big question mark."
St. Louis will start an enigma of its own in left-hander Steven Matz (0-7, 5.02). Sent to the bullpen in late May after season-opening struggles in the starting rotation, Matz takes the rotation spot of Adam Wainwright (shoulder), who recently landed on the injured list.
While Matz stumbled Wednesday in Miami, allowing two runs and three hits in 2 1/3 innings, he pitched to a 1.98 ERA over his first seven relief appearances, and he hasn't surrendered a home run since May 24.
Encouraging outings from the starters has been the norm of late for St. Louis, which has won two of three. The Cardinals evened their weekend series in Chicago with a 3-0 victory on Saturday afternoon, as Miles Mikolas set the tone with seven shutout innings of four-hit ball
"That's what we need, and that's what we've been counting on," Cardinals manager Oliver Marmol said. "And they're starting to show well, which is a positive for us.
Paul DeJong drove in the game-winning run with a second-inning RBI single, snapping an 0-for-13 slump.
Giolito is 1-2 with a 4.15 ERA in three career starts against the Cardinals, with 17 strikeouts in 17 1/3 innings
Matz took a no-decision in his lone career start against the White Sox in May 2016, spacing three runs (one earned) and six hits over 5 2/3 innings as a member of the New York Mets
--Field Level Media