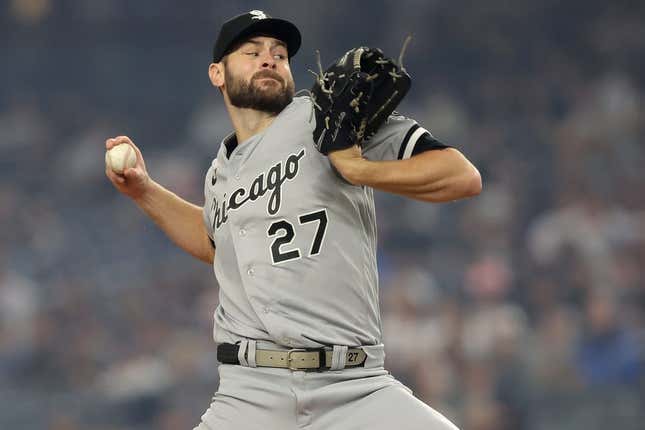 If his most recent outing is any indication of things to come, Chicago White Sox right-hander Lucas Giolito could be starting to find his groove
Is Texas or Florida State a bigger national title contender? | Agree to Disagree
Giolito worked six innings without allowing a hit in his last start. He will look to build off that performance on Sunday when the White Sox host the Miami Marlins in the rubber match of a three-game series
Giolito (5-4, 3.75 ERA) didn't go the distance in that outing, getting pulled after six innings of Tuesday's 3-2 victory over the New York Yankees. He walked three and struck out seven while improving to 3-1 over his past four starts.
"My stuff felt really good," Giolito said. "Fastball felt very lively. Too many balls ... they were working 2-2, 3-2 counts.
"They had a good, patient approach, which I unfortunately kind of played into a little bit. One takeaway from that is be more efficient, be more in the zone, attack the zone."
A no-hit bid might be a tougher to come by on Sunday. Giolito, after all, will have to go against Miami second baseman Luis Arraez, who leads the majors with a .402 batting average.
Arraez is hitting an eye-popping .522 (24-for-46) with 10 RBIs and nine runs in his last 12 games.
Giolito has never faced the Marlins, who appeared to be headed for a second consecutive loss on Saturday before putting together a five-run rally in the ninth inning
Chicago was three outs away from taking the first two games of the series, but Miami loaded the bases before recording an out in the ninth en route to a 5-1 win.
Despite escaping with the victory, the Marlins still were abysmal with runners in scoring position, going 1-for-16
"I think it was a pretty frustrating day the first eight innings," Miami manager Skip Schumaker said. "Sandy (Alcantara) was throwing the ball so well, really good defense behind him.
"We had guys on base; we just couldn't get that one big hit, and finally broke through in the ninth inning."
Marlins left-hander Braxton Garrett (2-2, 4.47) will hope the offense doesn't wait until the final inning to break through when he makes his 13th appearance (12th start) of the season on Sunday
Garrett was roughed up in his last outing, surrendering four runs on six hits in five innings against the Kansas City Royals on Monday. He still earned the win, though, striking out six without issuing a walk.
Now in his fourth major league season, Garrett has yet to face the White Sox
Chicago outfielder Luis Robert Jr. has been seeing the ball well over his last six games, going 8-for-23 (.348) with a homer and two RBIs.
Garrett and the Miami bullpen will attempt to limit Robert, and the bullpen got a boost last week when left-hander A.J. Puk was activated from the 15-day injured list.
In two appearances since coming back, Puk has struck out five over two scoreless innings.
--Field Level Media