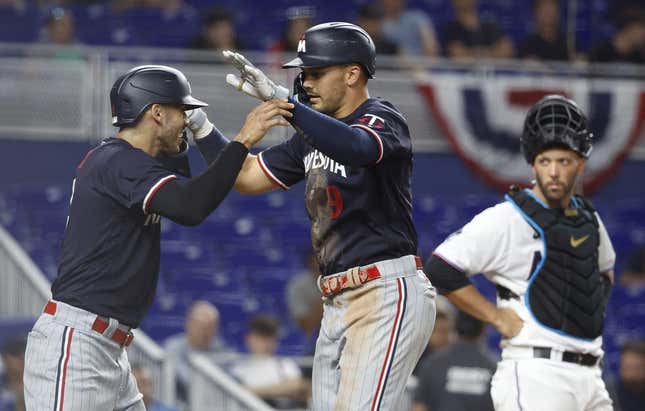 Luis Arraez has been the Miami Marlins' feel-good story this year
The rest of the team hasn't been as fortunate, though, and after losing four of their first five games, the Marlins will look to get on track on Tuesday night against the visiting Minnesota Twins
Bass' ERA stinks, but not compared to who he is off the mound | Worst of the Week Countdown
The Twins, who drilled the Marlins 11-1 on Monday, are 4-0 and off to their best start since 2017
"I still love Minnesota," said Arraez, who was the American League batting champion as a member of the Twins last year. "This is business, but not personal.
Arraez, who bats leadoff for Miami, is hitting .524 despite the Marlins' lack of success as a team
Along with Arraez, Miami also boasts another award-winner in right-hander Sandy Alcantara, who captured the National League Cy Young Award a season ago.
Alcantara (0-0, 4.76 ERA) will be making his second start of the season on Tuesday. Last year, he went 14-9 with a 2.28 ERA while tossing a major-league-leading 228 2/3 innings, 23 2/3 innings more than Aaron Nola, who logged the second most.
Alcantara has made just one career outing against the Twins, taking a loss on July 31, 2019. He was rocked for seven runs on six hits in just 4 2/3 innings
The Marlins need a big performance out of Alcantara on Tuesday, especially considering their Monday starter, Johnny Cueto, got just three outs before leaving due to right biceps tightness
"I felt the soreness in the bullpen, but I didn't say anything," Cueto said. "I tried to be a warrior."
Miami also was without starting shortstop Joey Wendle, who was scratched from the Monday game due to oblique soreness.
The Twins also have an injury concern, as right fielder Max Kepler left Monday's game due to soreness in his right knee
To oppose Alcantara, the Twins will start right-hander Kenta Maeda. In five career appearances (four starts) against the Marlins, he is 1-2 with a 2.28 ERA
After going 6-1 with a 2.70 ERA to finish second in voting for the AL Cy Young Award in the COVID-shortened 2020 season, Maeda had a lackluster 2021 before missing all of last season due to Tommy John surgery.
Tuesday marks his first start since Aug. 21, 2021.
Maeda will hope to get offensive support from Joey Gallo. The first baseman off to a 4-for-13 (.308) start to the season with three homers and seven RBIs. Gallo also has a double and four runs.
"I've been feeling pretty good," Gallo said. "Hopefully I can keep that going."
Even without Arraez, the Twins don't have a shortage of star power with center fielder Byron Buxton and shortstop Carlos Correa headlining their lineup
In addition, first-year Twins catcher Christian Vazquez has four hits in nine at-bats, and Trevor Larnach is hitting .438 after going 2-for-5 with three RBIs on Monday
Vazquez, who won two World Series titles with the Boston Red Sox in 2018 and with the Astros Houston last year, provides veteran depth behind the dish for Minnesota.
With all the winning, Twins manager Rocco Baldelli has little to complain about so far
"I like what I'm seeing all around the field," he said.
--Field Level Media