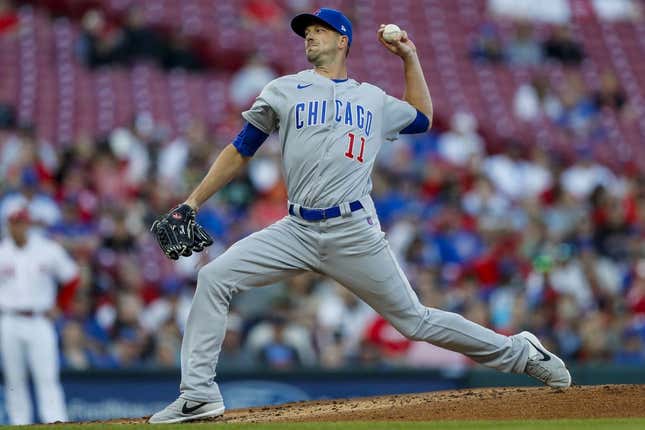 Luis Castillo's first full season with the Seattle Mariners is off to a strong start
From his days pitching in the National League Central, Castillo has also fared well at Wrigley Field of late.
Yet to allow a run in 2023, Castillo looks for a third straight impressive outing when the visiting Mariners open a three-game set against the Cubs on Monday night
After going 4-2 with a 3.17 ERA in 11 starts for Seattle last season, after it acquired him from Cincinnati at the trade deadine, Castillo (1-0, 0-0 ERA) has been strong out of the gate in 2023. In his two starts on the young season, the All-Star right-hander has allowed three hits and two walks over 11 2/3 scoreless innings. He also fanned six in each contest, and Cleveland and the Los Angeles Angels hit .079 against him.
"He's in total control," Mariners manager Scott Servais said
Castillo is quite familiar with the Cubs from his five-plus seasons with the Reds, and he has looked strong on Chicago's North Side in recent years. In his last five starts at Wrigley, Castillo is 4-1 with 34 strikeouts and a 2.73 ERA
However, Chicago's Nico Hoerner and Eric Hosmer are a combined 14-for-22 versus Castillo. Meanwhile, Ian Happ is batting .320 with three doubles and a homer against him.
After Castillo helped the Mariners win their season opener against the Guardians, they went 1-5. Seattle then won the first two of a three-game weekend set at Cleveland by a combined three runs before it blew a 3-1 ninth-inning lead and 5-3 edge in the 11th of a 7-6 loss in 12 on Sunday
"I didn't see that game going that way," Servais said.
"Our guys are very resilient. ... A lot of positives. We played well this series."
Four of the Mariners' six losses through the first 10 games of the season have been decided by one or two runs
Chicago, meanwhile, won three straight before Sunday's 8-2 loss to Texas. The Cubs bounced into two double plays and committed two errors while dropping to 4-4
"Not our best (Sunday)," Cubs manager David Ross said
Chicago hopes scheduled starter Drew Smyly (0-1, 11.57 ERA) can rebound after he allowed seven runs -- six earned -- with nine hits in 4 2/3 innings of a 7-6 loss at Cincinnati on April 3. The left-hander is 1-2 with a 6.21 ERA in nine career appearances (five starts) against the Mariners
Seattle's Eugenio Suarez is 0-for-5 with two strikeouts versus Smyly, but is batting .419 with seven RBIs while hitting safely in his last seven games.
Meanwhile, Happ is hitting .370 with nine walks and six RBIs this season.
Chicago could also have the services of outfielder Seiya Suzuki back as early as this week. Suzuki, who hit 14 home runs and batted .262 in his first major league season in 2022, began this campaign on the injured list with an oblique issue. According to the Chicago Sun-Times, Suzuki was slated to be re-evaluated Sunday, following a rehab stint at Triple-A Iowa.
"It looks like he could be ready soon," Ross said.
"We'll just continue to monitor that, and how he's feeling."
--Field Level Media