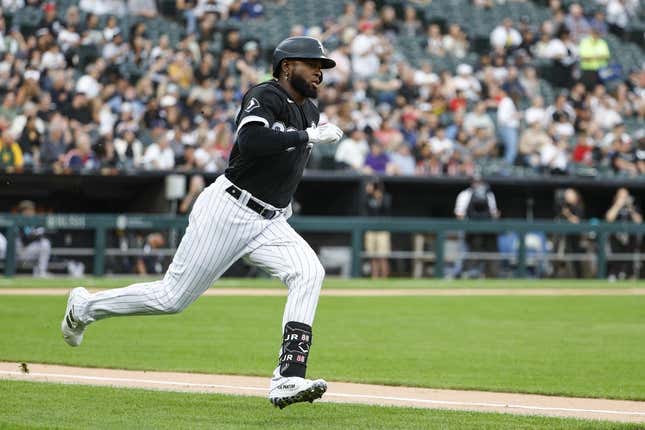 The Chicago White Sox hope All-Star Luis Robert Jr. is available to give them a much-needed spark on Wednesday after a disheartening loss.
How running an NFL team is like running a restaurant | Chef Emeril Lagasse
Robert could return to the starting lineup when the visiting White Sox vie to snap a five-game losing skid in the finale of their three-game series against the Kansas City Royals. They squandered a five-run lead, then lost on a balk Tuesday.
Due to cramping in his right quad, Robert missed his third straight game Monday before entering Tuesday's contest in the seventh inning as a pinch hitter.
"He's day-to-day," White Sox manager Pedro Grifol said prior to Chicago's 12-1 loss Monday. "He had a cramp, and the cramp was significant enough to linger for a couple of days and we just want to make sure he's completely healthy."
Grifol said a Wednesday return makes sense as long as Robert feels OK.
"We've got Thursday off, and then he can go back to his normal schedule Friday. The most important thing is he's way better."
The White Sox (53-86) are happy to celebrate all the positive turns they can in a lost season.
With a first-inning double Sunday, Tim Anderson reached 1,000 career hits. He became the 19th player to record his first 1,000 hits in a White Sox uniform, doing so in 875 games.
"It's an unbelievable accomplishment," Grifol said. "There are a lot of things that go into those milestones: health, talent, competing against the best in the world every single day and consistency. A thousand hits in the major leagues in such a short period of time is something you have to congratulate and something to really be proud of."
Right-handers Touki Toussaint (2-7, 4.87 ERA) for the White Sox and Jordan Lyles (4-15, 6.29) for the Royals will square off in the season finale between the clubs.
Toussaint allowed three runs on five hits in 5 1/3 innings on Friday in a 4-2 loss to the Detroit Tigers. He has yet to face the Royals (44-96) in his career.
Lyles snapped a three-game losing skid on Friday after permitting two runs on four hits in eight innings of a 13-2 victory over the Boston Red Sox.
He is 1-5 with a 4.74 ERA in nine career games (seven starts) against the White Sox. He lost both starts to Chicago in May and last defeated the White Sox in 2014 while pitching for the Colorado Rockies.
Andrew Vaughn has a pair of homers in 11 at-bats against Lyles, while four other White Sox hitters also have gone deep versus the hurler — including Robert in the Royals' 4-2 loss on May 9.
Kansas City's 7-6 walk-off win Tuesday — following Gregory Santos' bases-loaded balk — earned the club its first series win since recording back-to-back three-game sweeps of the Minnesota Twins (July 28-30) and New York Mets (Aug. 1-3).
It was the Royals' second "balk off" win in franchise history. They beat the Mets on Aug. 1, also by a 7-6 decision, when Josh Walker committed a balk in the 10th inning.
The Royals, who have the second-worst record in the American League, also are a team that appreciates improvements and small victories.
After scuffling through June, July and August after hitting .319 in May, Michael Massey has opened September with a flourish. The Illinois native is 7-for-20 with three doubles, one homer, three RBIs and five runs.
"Still working on some adjustments with the hitting coaches," Massey said. "That's kind of the way this thing works: they adjust and you adjust back. It's frustrating at times."
"He's had good at-bats even when he hasn't gotten hits," Royals manager Matt Quatraro said. "He had a game the other night, lined out three times and got nothing to show for it."
—Field Level Media