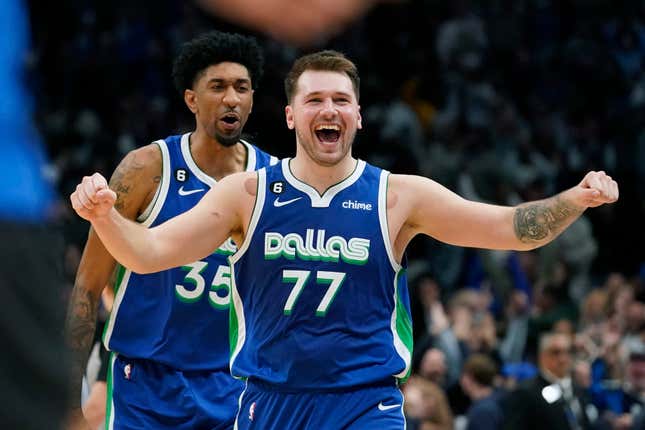 Dallas Mavericks All-Star guard Luka Dončić said Tuesday that he will keep playing as long as the team remains in the postseason race.
Is 60 > 71? Debating Luka Dončić and Donovan Mitchell's record breaking games
Dončić, who is recovering from a left thigh injury, and fellow All-Star guard Kyrie Irving (right foot injury), are listed as probable for Wednesday's game against the visiting Sacramento Kings.
"I'm playing (Wednesday)," Dončić said after Tuesday's practice. "When there's still a chance, I'm gonna play. So that's not gonna happen yet."
Having lost seven of their past eight games, the Mavs (37-42) sit one game back of the Oklahoma City Thunder (38-41) for the final play-in spot in the Western Conference.
The Thunder own the tiebreaker against the Mavs, who must win two more games than Oklahoma City in the final week of the regular season.
"There's little chance," Dončić said. "We all know that, but like I said, as long as there's a chance, I'll play."
Coming off an appearance in the Western finals last season, the Mavs acquired Irving in a blockbuster trade before the deadline, but it hasn't worked out as the club hoped.
Dallas is just 4-11 with both Dončić and Irving in the lineup and 7-15 overall since Irving joined the team.
"I think you don't see that chemistry we had before — I mean, especially last year," Dončić said. "I think that chemistry was at the top, everybody. But chemistry builds not just right away. It's a long process."
Scoring isn't the reason for the club's struggles, Dončić said, pointing out the Mavs' inability to stop opposing offenses.
"I don't think the offense is a problem, and I always said this," he said. "It's our defensive end. I think anybody can score on us. Whoever it is, anybody can score on us."
Doncic pointed to fatigue after having little time off the past three years between the Mavs and the Slovenian national team, along with carrying a heavy offensive workload before Irving arrived.
"But that's not an excuse," Dončić said. "I'm still young, age-wise, but it's a lot of basketball. But I gotta be way better. I'm the leader of this team. The one to blame is me."
—Field Level Media