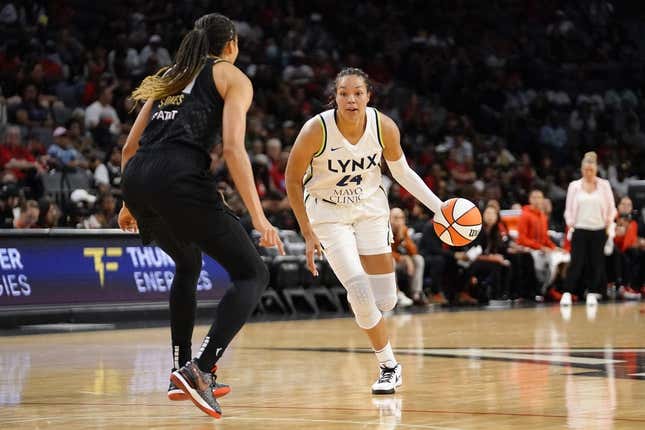 Minnesota Lynx star Napheesa Collier said Tuesday's 88-79 win at Chicago was good for one important reason.
Is Texas or Florida State a bigger national title contender? | Agree to Disagree
"These games are really good for us because when we get into the playoffs, every game is probably going to be like this," she said. "So, to be able to push through in crunch time and stop the bleeding provides a lot of growth for our team."
Collier and Minnesota look to continue the growth process, as well as solidify their playoff push, on Thursday night when they travel to Indianapolis for a matchup with the struggling Indiana Fever.
In the victory over the Sky, Collier pumped in 29 points despite running into foul trouble. She drew her third foul at the 4:03 mark of the second quarter and her fourth with 5:06 left in the third. But her teammates picked up the slack both times.
Nikolina Milic came off the bench for 12 points, while Jessica Shepard contributed 17 points, seven rebounds and five assists. The Lynx (14-15) shot 51.7 percent from the field and earned a 26-5 advantage in free-throw attempts.
Meanwhile, Indiana (7-22) lost for the 15th time in 17 games Tuesday night when Los Angeles pulled away down the stretch for an 87-80 win in Indianapolis. The Fever fell to the bottom of the league standings, just behind Seattle (7-21).
Indiana coach Christie Sides said her team has been in just about every game but simply can't find a way to get over the hump.
"There just comes a time when adversity sets in for us, when things get hard," she said. "We revert back to old habits, bad habits. We get close and don't communicate on defense and you give up 30 points in a quarter."
There was good news for the Fever as second-year forward NaLyssa Smith returned from a stress fracture in her left foot that cost her nine games. She scored eight points in 18 minutes off the bench.
The teams have split two matchups this year, both in Minneapolis.
—Field Level Media