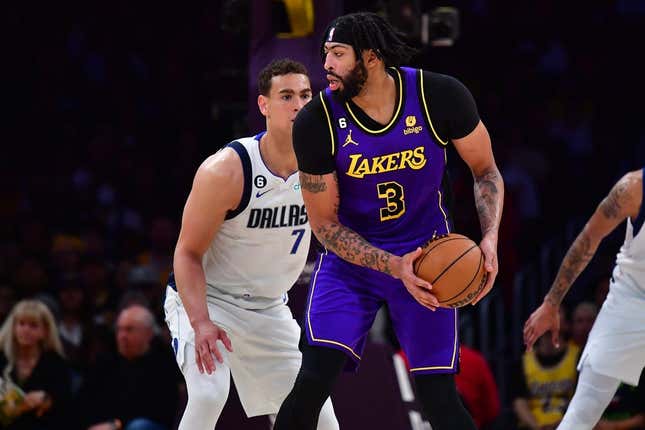 With their charge up the Western Conference standings stunted by a current two-game losing streak, the Los Angeles Lakers have a chance to get back on track Sunday with a visit from the Orlando Magic.
How running an NFL team is like running a restaurant | Chef Emeril Lagasse
The Lakers appeared to have Dallas figured out Friday but a Maxi Kleber leaning 3-pointer at the buzzer gave the Mavericks a 111-110 victory. Los Angeles did not make a field goal in the final three minutes and were outscored 9-3 over the final 2:48.
Anthony Davis had 26 points and 10 rebounds for the Lakers, but he fouled Kleber on a 3-point attempt with 7.2 seconds remaining. Kleber drained all three free throws and Davis made just one of two free throws less than a second later.
"At the end of the day, there's nothing we can do about it, to be honest. It happened," Davis said. "Our focus is now Sunday, trying to get a win against Orlando. But this one is tough, the way it ended."
Los Angeles (34-37) got back into playoff contention with an 8-3 run from Feb. 15 to March 14, as most of that turnaround came after LeBron James departed with a foot injury. The two-game skid has now made the Lakers' play-in tournament hopes more difficult while providing a blow to their goal of finishing in the top six in the conference.
"We can't get overwhelmed where we got 12 (games) left and we gotta get to that number (of wins), and you start overlooking things," Lakers head coach Darvin Ham said. "Our priority has been to stay in the moment and take 'em one at a time."
The Lakers have 11 games left now, with seven of the next eight against teams that do not hold a top-six spot in their respective conference.
The first of those winnable games is against the Magic (29-42), who are out of playoff contention in the Eastern Conference. But Orlando just pulled off a 113-108 road victory over the Los Angeles Clippers.
The victory came after the Magic lost six of their previous eight games and was against a top-five team in the West. Markelle Fultz scored 12 of his career-high 28 points in the fourth quarter to fuel a rally from an eight-point deficit to open the final period.
Wendell Carter Jr. had 27 points and 12 rebounds, while Franz Wagner had 20 points and a 3-pointer with 41 seconds remaining to provide enough cushion for the victory.
Fultz, who played in just 26 games over the previous two seasons because of shoulder and knee injuries, has scored at least 20 points in four of his past nine games and in consecutive games for the first time this season.
"I'm so proud of this young man just for the fact that everything he's constantly endured," Magic head coach Jamahl Mosley said. "He never walks in the building without a smile on his face. You see there's such a level of joy in his heart for playing the game of basketball. That's what shows up."
The teams are meeting for the first time since Dec. 27 when the Lakers pulled off a 129-110 victory behind 28 points from James. Davis was in the midst of a 20-game absence because of a right foot injury.
--Field Level Media