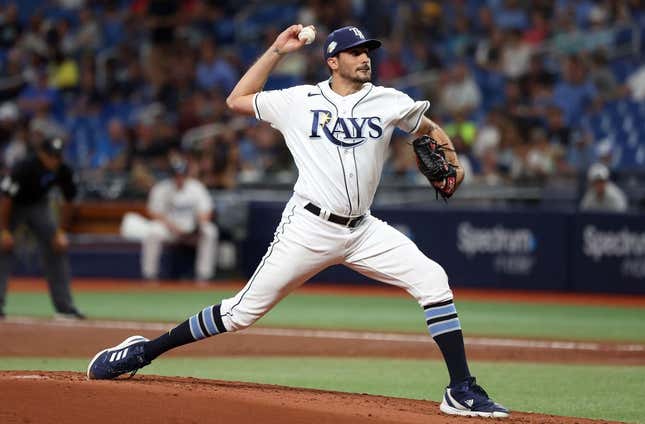 Like many players on the Kansas City Royals, pitcher Zack Greinke has had a troublesome June as play heats up and the bad teams get even more separated from the good
How running an NFL team is like running a restaurant | Chef Emeril Lagasse
However, Greinke's job this weekend is straightforward: return home to Florida and beat the club that has dominated the season's first half.
The right-hander will start the second game of the four-game series between the Royals and the Tampa Bay Rays on Friday night in St. Petersburg, Fla
Kansas City rallied to win the series opener, improving their mark to 5-20 in such games. MJ Melendez's two-out infield single in the ninth lifted the Royals to a 6-5 victory
Hailing from nearby Apopka, Fla., the hometown of Pro Football Hall of Fame defensive lineman Warren Sapp, Greinke will have to dig in as he tackles the Rays' stout lineup
His three starts this month have been emblematic of Kansas City's overall play. The Royals are 4-15 in June
Greinke (1-7, 4.81 ERA) is 0-2 with a 7.53 ERA over his June starts against the Miami Marlins, Cincinnati Reds and Los Angeles Angels.
Across his 15 starts, the 39-year-old veteran has pitched a season-high six innings just twice -- in his second and fourth outings of the year in April.
In 14 1/3 innings in June, he has surrendered 12 runs and 18 hits, including four homers. The opposition is hitting an even .300 against him.
Greinke is 4-6 with a 3.41 ERA in 18 career appearances (15 starts) vs. the Rays. He got a no-decision in his latest start against Tampa Bay, a 3-2 road defeat last Aug. 21, when he was taken deep by Christian Bethancourt
The current series also represent a homecoming for Royals first-year manager Matt Quatraro
Quatraro was a coach under Tampa Bay manager Kevin Cash from 2018-22, the last four years serving as bench coach. The two speak at least once a week -- sometimes more often -- as the Kansas City rookie learns the ropes of being a big-league skipper.
His best memory of his time with Tampa Bay was the 2019 postseason.
"Coming back here down 2-0 to the Astros (in the American League Division Series)," Quatraro said. "Winning those two games and having ... that crowd and the excitement of those games in particular was phenomenal."
Cash said he was glad to see Quatraro and fellow former Tampa Bay staffer Paul Hoover back inside the dome, where they were key assets on strong Rays teams that have continued to get even better and top the majors in winning percentage. Hoover is now the Royals' bench coach
"I'm excited to see Matt and Hoov," Cash said. "They were pretty instrumental in a lot of the things that we did here. I'm really happy for both of them, what they're doing in Kansas City."
Cash will send out No. 2 starter Zach Eflin to try to even the series after the bullpen uncharacteristically blew a 5-3 lead on Thursday. Jason Adam and closer Pete Fairbanks combined to surrender three runs over the final two innings.
Eflin (8-3, 3.26 ERA) has lost his past two outings after earning the win in four of his previous five starts.
The right-hander has made one career start against the Royals -- a four-hit shutout for the Philadelphia Phillies on May 11, 2019, in Kansas City
--Field Level Media