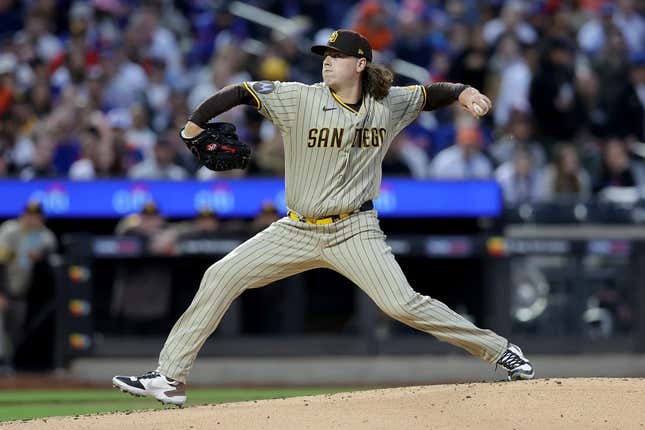 Ryan Weathers tossed five solid innings and combined with four relievers on a five-hitter, while Manny Machado laced the go-ahead two-run double in the fifth inning as the San Diego Padres beat the host New York Mets 4-2 on Tuesday night
'Soccer fandom is full of gatekeepers' says Ted Lasso actor Brendan Hunt
Xander Bogaerts hit a two-run homer in the ninth for the Padres, who have won four of five. Mark Canha had a sacrifice fly and Tommy Pham laced an RBI single for the Mets, who have lost two of three
Weathers (1-0), pitching against the team for whom his father, David, pitched for from 2002-04, allowed one run on three hits and two walks while striking out three over the five innings.
Brent Honeywell Jr. threw a perfect sixth and Luis Garcia worked around a two-out single by Jeff McNeil in the seventh before Steven Wilson got into and out of trouble in the eighth, when he issued two walks but stranded two by striking out Francisco Lindor.
The Padres added insurance in the ninth, when Luis Campusano led off with a double and scored on Bogaerts' two-out homer into the second deck in left field
The Mets mounted a rally in the ninth against Josh Hader, who walked two before giving up Pham's one-out run-scoring single. But Hader retired Tomas Nido on a comebacker and struck out Francisco Alvarez to notch his fourth save
Campusano had a career-high three hits. He entered Tuesday with four two-hit efforts in 31 big-league games.
The Mets squandered a bases-loaded, none-out opportunity in the first before taking the lead in the fourth. Lindor singled and went to third on a single by Pete Alonso, who was picked off by Weathers before Canha lofted a sacrifice fly
The Padres stranded three runners over the first four innings against David Peterson (0-2) before breaking through in the fifth. Campusano led off with a single and went to second on a one-out single by Brandon Dixon. Both runners advanced a base on a groundout by Bogaerts before Machado ripped a double just fair down the third-base line
Peterson allowed two runs on six hits and two walks while striking out six over 5 2/3 innings.
--Field Level Media