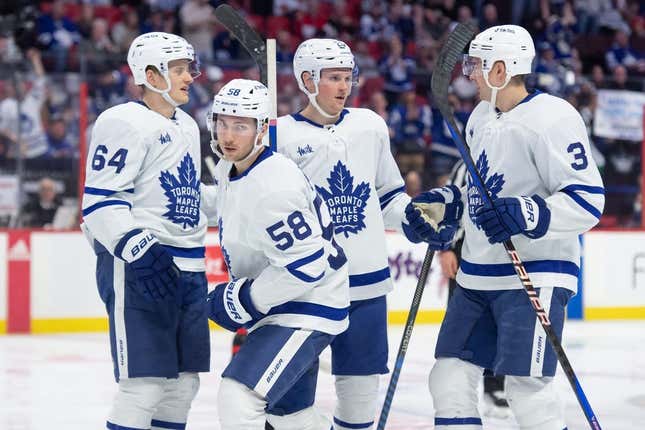 The Toronto Maple Leafs will try to take another step toward clinching second place in the Atlantic Division on Sunday night when they host the Detroit Red Wings
Does Jimmy Butler have the best NBA Finals origin story? | Agree to Disagree
Ilya Samsonov turned aside all 30 shots he faced for his fourth shutout of the season in Toronto's 3-0 victory over the provincial-rival Ottawa Senators on Saturday.
Matt Murray is scheduled to start in goal Sunday for the Maple Leafs
The Maple Leafs (45-20-10, 100 points) reside in second place in the Atlantic Division, four points up on the Tampa Bay Lightning. Toronto has seven games remaining on its schedule while the Lightning only have five
A second-place finish would give Toronto home-ice advantage in a first-round series with Tampa Bay.
The Maple Leafs are looking forward to the return of injured forward Ryan O'Reilly, but it will not come Sunday
O'Reilly practiced with his teammates on Friday for the first time since sustaining a broken left index finger on March 4 when he was hit by a shot from teammate Auston Matthews.
"It feels good," O'Reilly said. "It's been about four weeks now since it happened. We're progressing. It isn't 100 percent yet. I'm going to be smart. The goal is to be 100 percent in the playoffs."
It has not been determined when O'Reilly will return.
"We're in a good position," O'Reilly said. "We're just being smart, don't want to experience any setbacks."
O'Reilly has three goals and two assists in eight games since he was acquired from the St. Louis Blues.
"Obviously, a very positive sign for us, and a good jolt for the group," Maple Leafs captain John Tavares said, "considering the way he came in and made an impact for us, and his pedigree and the role he'll play going forward.
"(O'Reilly) brings a lot with his energy and personality," Toronto coach Sheldon Keefe said. "So, to be in the actual practice is great. A big step for him."
After winning two straight contests, Detroit dropped a 6-2 decision to the Winnipeg Jets on Friday in the opener of a three-game road trip.
David Perron and Joe Veleno each scored a goal and Magnus Hellberg made 23 saves for the Red Wings (33-33-9, 75 points), who were coming off a 3-2 victory over the Carolina Hurricanes on Thursday
"I think we had a tough start, but I don't think I showed up to help the team win (on Friday)," Hellberg said about the Winnipeg game. "I take full responsibility for my performance . It was clearly not good enough. I'm not happy with how I played."
Red Wings coach Derek Lalonde did not put all the blame on his goaltender
"As a backup, it's hard," Lalonde said. "It's a tough position. It was just one of those nights he couldn't find the puck and he kept losing his net. I thought he battled through it and it's just tough. There's going to be some of those nights. Obviously, we weren't great in front of him, and I just think it kind of piled up on him."
Detroit scored in a 21-second span in the third period, starting with Perron's power-play goal.
"I really think it was just one of those games where we needed something to energize us," Lalonde said. "We couldn't build any momentum throughout the night. I do appreciate the fact that we won the third period."
--Field Level Media