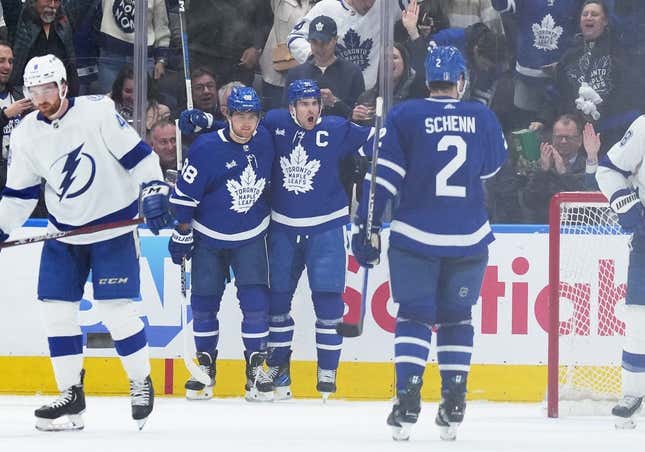 John Tavares scored three goals, Morgan Rielly added four assists and the Toronto Maple Leafs defeated the visiting Tampa Bay Lightning 7-2 on Thursday in Game 2 of a first-round Eastern Conference playoff series
Mitchell Marner added two goals and an assist for the Maple Leafs, who evened the best-of-seven series at one win apiece. Game 3 is Saturday in Tampa
William Nylander contributed a goal and an assist and Zach Aston-Reese scored a goal for Toronto. Auston Matthews registered two assists, and Ilya Samsonov stopped 19 shots.
Ian Cole and Corey Perry scored for Tampa Bay, and Andrei Vasilevskiy made 28 saves.
The Maple Leafs, who lost 7-3 in the opener on Tuesday, led 3-0 after the first period on Thursday
Toronto scored 47 seconds into the game on a power play. Marner's 48-foot slap shot from above the right circle slipped beneath Vasilevskiy's pad. Rielly made the pass after Matthews won the faceoff. Cole was off for tripping,
Rielly passed back to Tavares, who shot from the left circle to give Toronto a 2-0 lead at 12:45.
Nylander scored from the left circle on a shot that grazed off Vasilevskiy's shoulder on the glove side at 15:08 after Rielly's pass. Toronto had an extra attacker with a delayed penalty being called against Tampa Bay.
After a prolonged period of Toronto pressure, Tampa Bay came back to score on Cole's backhand from the slot at 8:58 of the second period. Steven Stamkos and Brayden Point earned assists.
Tavares knocked in a rebound after Rielly's rush toward the net at 13:14 of the second to restore the three-goal margin.
Aston-Reese poked in a loose puck at 15:52 of the second, and Marner tipped in TJ Brodie's shot at 18:02 of the second.
Perry scored at 12:38 of the third period. Tavares found the net at 15:06 of the third just after a five-on-three Toronto power play had become a five-on-four.
With Michael Bunting starting a three-game suspension for Toronto, Matthew Knies made his postseason debut. Bunting was suspended for an illegal hit to the head of the Lightning's Erik Cernak in Game 1
Cernak, Mikey Eyssimont (undisclosed) and Victor Hedman (undisclosed) did not play for Tampa Bay.
--Field Level Media