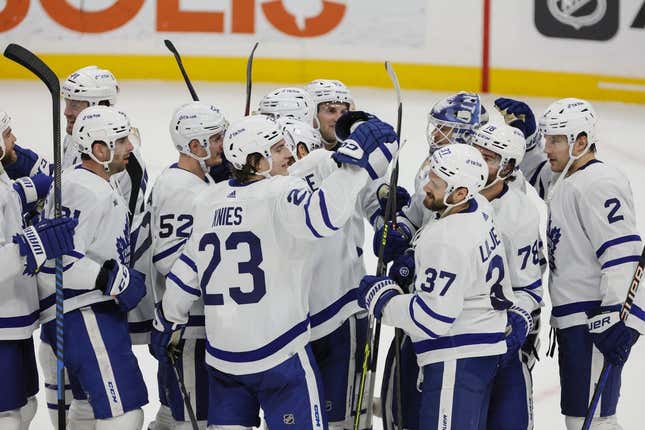 The Toronto Maple Leafs will visit the Tampa Bay Lightning on Tuesday night in what amounts to a preview of their upcoming Eastern Conference first-round playoff series
Toronto (48-21-11, 107 points) will finish in second place in the Atlantic Division and will open the playoffs against third-place Tampa Bay (45-29-6, 96 points).
The Maple Leafs will complete a back-to-back set of games on Tuesday. John Tavares scored on a breakaway with 21.3 seconds left in overtime win to give Toronto a 2-1 win over the Florida Panthers on Monday
"A playoff-like game," Leafs defenseman Morgan Rielly said. "For us, that's perfect. We're gearing up, going in that direction. We want to get into that playoff mode, and we're expecting that atmosphere."
Toronto's Auston Matthews reached the 40-goal plateau for the fourth consecutive season and the fifth time in his career. He has 299 lifetime goals.
Ilya Samsonov made 45 saves for his 27th win of the season in 42 appearances (40 starts).
"I thought in terms of battling and being committed to the job tonight, nobody exemplified it better than Ilya," Toronto coach Sheldon Keefe said. "He was awesome."
Samsonov might have to go again Tuesday. Injured Matt Murray is not ready to return, and the Maple Leafs have been denied a goaltending recall salary-cap exemption. The team signed 21-year-old Nick Chenard from the Ontario Hockey League to an amateur tryout agreement, and he backed up Samsonov on Monday
Toronto forward Matthew Knies, a second-round pick in the 2021 Draft, made his NHL debut on Monday. The 20-year-old logged 13:09 of ice time and registered a blocked shot and a hit.
The Lightning, meanwhile, are just looking to right the ship as the playoffs approach. Tampa Bay has lost seven of its last 10 games, including all three games on its just-concluded road trip while being outscored 19-8
The Lightning ended the three-game trip Saturday night with a 7-4 loss at the Ottawa Senators
"We gave up 19 goals in three games," Tampa Bay coach Jon Cooper said following the loss. "We'd given up one in the previous three before that. It tells you what happens."
Defenseman Victor Hedman and captain Steven Stamkos each collected a goal and two assists. Nikita Kucherov had three assists to boost his total to 81 this season, his second time reaching at least 80 (87, 2018-19).
Alex Killorn scored his 26th goal of the season, tying his career high set during the 2019-20 season.
Andrei Vasilevskiy is 14-9-2 with a 2.50 goals-against and .922 save percentage vs. the Maple Leafs
Tuesday's game will be a be a preview of the elimination series set for the coming week.
"I think it means something," Lightning forward Brayden Point said. "I'm sure it does for them, too. It's going to be our first-round matchup, so I would expect a tone to be set in that game from both sides, and hopefully our effort is better.
Cooper said Monday that Tanner Jeannot will miss the start of the playoffs with a lower-body injury. The forward, who was injured against the New York Islanders last week, is "more than day-to-day," Cooper said Monday.
--Field Level Media