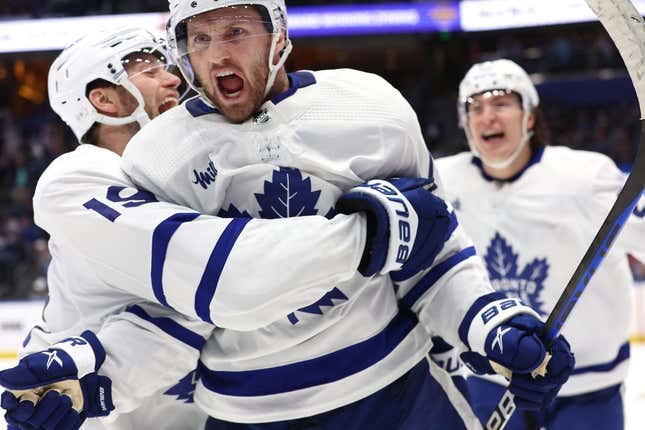 After coming back twice to win in overtime on the road, the Toronto Maple Leafs will try to finish the job at home Thursday night against the Tampa Bay Lightning
'Soccer fandom is full of gatekeepers' says Ted Lasso actor Brendan Hunt
Now it is the Lightning's turn to attempt a big comeback as the Maple Leafs lead 3-1 in the best-of-seven, Eastern Conference first-round playoff series
The Lightning, who have reached the Stanley Cup Final in each of the past three seasons and won two of them, have faced elimination before and survived to play at least another game
Tampa Bay trailed Toronto 3-2 in games in the first round last season and came back to win the next two, taking Game 7 at Toronto.
In the Stanley Cup Final last season, the Lightning trailed the Colorado Avalanche 3-1 after losing Game 4 in overtime, then won Game 5 at Denver before the Avs won the title
"You've just got to be careful, because that was last year and it's a different team," Lightning coach Jon Cooper said Tuesday. "Moving forward here, yes, the guys that played in that know that feeling, know that preparation, know the mindset, know what we had to do. And they went in a really hostile environment in the Final to win a game, and so there's no question
"But there's a lot of guys that weren't in that game. So it's up to our group and our leaders that guide these guys along in those situations. But the one thing is we've had plenty of success in Toronto's home arena in the playoffs, and so we're confident we can just do that again. No guarantees, naturally, but we have confidence in ourselves."
The momentum should be with the Maple Leafs entering Game 5 as they try to advance beyond the first round for the first time since 2004
Toronto overcame a three-goal, third-period deficit Monday at Tampa to defeat the Lightning 5-4 in overtime
Toronto tied Game 3 on Saturday in the final minute of the third period before winning 4-3 in overtime. The teams split the first two games in Toronto.
Maple Leafs coach Sheldon Keefe praised the players for finding answers from within
"Guys have done that throughout, some really good moments," Keefe said Tuesday. "(Ryan) O'Reilly clutch moments (Game 3), Auston (Matthews) scoring two (to start the Game 4 rally), that gave us a shock to our system with an unbelievable tip. (Mitchell Marner) took charge at different moments to get us going at difficult times, Morgan (Rielly with winning and tying goals), Noel Acciari scores two on the road, (goaltender) Ilya (Samsonov)'s competitiveness.
"Even guys not showing up on the scoreboard (are contributing). There's no easy ice out there or easy shifts."
The Maple Leafs have disappointed before. They led the Montreal Canadiens 3-1 in games in the first round in 2021 before losing Games 5 and 7 at home
Cooper said that Lightning defenseman Erik Cernak will miss Game 5. He has not played since taking a hit to the head in Game 1 that resulted in a three-game suspension for Toronto's Michael Bunting
Matthew Knies, who replaced Bunting, will remain in the lineup for Game 5.
"Matthew Knies is certainly not coming out of the lineup, he's done a terrific job for us," Keefe said. "He's a guy that has definitely earned his spot and the opportunity to continue to play for us there."
-Field Level Media